TMHS is Seeing Double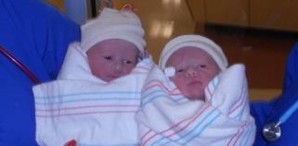 Corey Bryan
April 20, 2012
Filed under Student Life
Most of the students and at TMHS have a brother, sister or both. But very few have a special sibling, a twin. A brother or sister that shares the same birth date and is claimed to have a close bond.
Twins are anything but abnormal. In fact, about one in every 285 people has a twin which is about two percent of the United States' population. Each year, the percentage of twins increases little by little each year.
There are multiple types of twins and not all have to be identical. Some twins are not even born on the same day.
At TMHS, there are sets of twins, Such as Brianna and Brittney Christian. Though they do not look 100 percent alike, they do share the same birthday.
"It is just like having a regular brother or sister," said Brittney Christian.
Another two sets of twins are Lea and Anna Huntington and Rachel and Rebecca Flinn, which are more of the identical twins. There are several different types of twins, identical, fraternal, half-identical, mirror image twins, mixed chromosome twins, superfecundation, and superfetation but still classifies as twins even if they don't look alike.
"It's ok being a twin, people mostly get our names mixed up when they see us," said Anna.
There is also a teacher at TMHS, Angela Brock, who has given birth to twin boys, Beau Miles at four pounds and nine ounces and Dylan Wyatt at four pounds thirteen ounces. The twins were brought in to the world on Monday, April 9th, 2012.
"We don't get along sometimes but in the end we love each other," said Rebecca Flinn.
Story By: Corey Bryan