Two TMHS Art Students Earn Perfect Scores at State Competition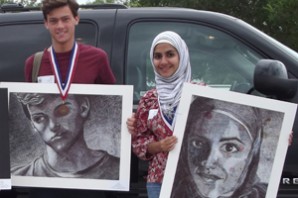 Taylor Cook
April 25, 2012
Filed under Student Life, Top Stories
TMHS has another pair of state competition winners. Eisha Khan and Jett Johnson earned perfect scores on the VASE Statewide Competition.
In order to compete in the contest the students had to go through VASE regionals at Klein Collins High School, where Ms. Tieman took ten students, two of the ten students made it to state with perfect scores. Only 10%  of the art pieces from regionals advanced to state.
Eisha Khan and Jett Johnson made it to state with their self portraits drawn with mixed media pen and ink on a newspaper surface. Kahn and Johnson were competing against 1,480 other students across the state of Texas.
During state competition the students got to meet a famous artist, the artist showed the students a chalk art piece that she did right there from start to finish.  The students also got to go to workshops, the TMHS sophomores completed  a two hour chalk seminar.
At state Khan and Johnson both received perfect scores.  One of the things I learned from the experience is that "you can do anything you want to do, as long as there is meaning behind it" said Khan.
By: Taylor Cook