TMHS Takes Home the Gold at UIL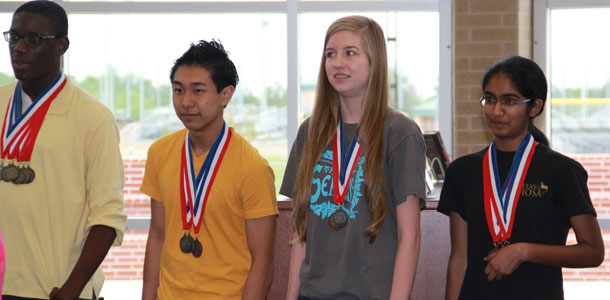 Kate Phillips
March 29, 2012
Filed under Top Stories, Uncategorized
During the past week, TMHS has sent many students off to compete in various District Academic UIL competitions. The results were phenomenal.
"Coming first in all three is something I never expected," said Justice Nwaiwu, first place winner in Calculator Applications, Mathematics, and Number Sense.
The competition was tough. Students from neighboring districts got together to compete in various areas, from mathematics to journalism to language arts. TMHS medaled in almost every event.
"It's a bunch of geniuses," said Nwaiwu.
The competition can be stressful and even nerve-wracking, particularly with the build-up some students experience. However, it can also be rewarding for the students who have worked so hard to get to that point.
"Actually competing is so fun. I get an adrenaline rush from it," said Devyn Crawford, first place winner of Feature Writing.
Many of the winners were pleasantly surprised to hear the news. "I'm not a very emotional person, but I was really happy when I won," said Nwaiwu.
After going up against the best of the best from other schools, it was a gratifying feeling to see TMHS do so well. "I was shocked. I'd just gotten off work and saw Mrs. Chumley had called me," said Crawford. So I called her back and when she told me I'd won, I was like, 'is this a joke?'"
There was a lot of pressure to do well, as there always is with academic competition.
"I thought I failed miserably," said Crawford. "I thought the judges would read my first sentence and put it in the loser pile."
Perhaps our biggest disadvantage is the fact that TMHS only has sophomores and freshmen; however, at UIL it wasn't a problem. "It doesn't matter how old they are," said Crawford. "Age doesn't matter. We can still beat them."