Fresh Flowers Arrive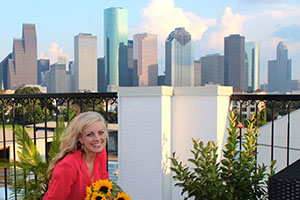 She rises and walks to her balcony in her town home in the Heights, smelling the flowers she works so hard on everyday. Absorbing the intoxicating scent, she prepares herself for the day ahead
Floral teacher Tatum Dorow, from Katy ISD, was welcomed this summer to the home of the Wildcats.
"When I first arrived at the campus I was immediately impressed, and I continue to be. Everything is so structured and organized it's awesome," Dorow said.
The world of agriculture is not foreign to Dorow. As a small town west Texas girl she is comfortably at home.
"My mom was a math teacher and my dad was an Ag teacher, so this is just second nature," Dorow said. "I was always going to shows and conferences with my dad."
Even though this is a second nature to Dorow, it wasn't always her plan for her future.
"The year after I graduated high school I was able to travel the state visiting around 600 FFA chapters," Dorow said. "However, I felt like I needed to do something different than my parents, so in college I decided I would be a lobbyist for an agricultural firm."
Even though Dorow studied to be a lobbyist, her passion kept calling her.
"I always come back to teaching. It truly is my passion," Dorow said.
After earning her masters from A&M she went to Katy ISD to complete her student teaching. There she met welding teacher Jason Thomas.
"She was a student teacher for our Ag department in Katy. She was by far the best student teacher we had ever seen," Thomas said.
When the floral teacher position opened up, Thomas knew exactly who to recruit.
"Her students are really going to enjoy her," Thomas said. "She's going to push them to do their best, but at the end of the year. it will be worth it."
Dorow is already looking forward to her classes this year in Floral.
"I'm planning on doing a major project for each season," Dorow said. "I'm really looking forward to Christmas because I love the holidays."
Coming in to the close knit Wildcat Ag program this year, she was challenged to become a Wildcat herself.
"I'm so glad to be working at this campus. The programs are amazing as well as the teachers," Dorow said. "I hope that all the students that take my class can come and enjoy my passion along with me."