Band Sweeps Competitions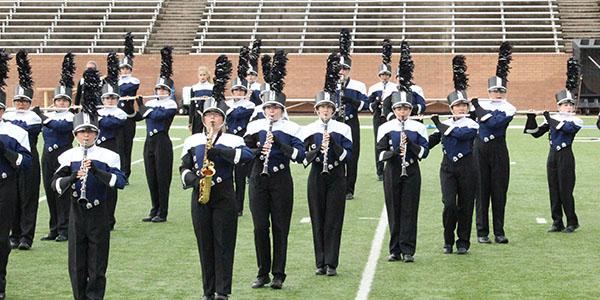 Long practices in the parking lot have finally paid off. Band has flown through their UIL competitions, taking second place in the first competition, and first place in the past two.
"I think we had a very good first competition." Band director Andy Easton said.
The title of this year's performance is 'Gone Fishin'.
"I think our music arranger did a great job of picking out some fun and exciting music," Easton said.
After the first competition, the band worked tirelessly to perfect their marching and music for the continuing competitions.
"We are all working very hard," Freshman Danielle Flores said.
To prepare for their competitions, they have put more time into their music as an ensemble.
"We have several students who come out before practice and work on their sets," Easton said.
The second competition was at the Katy Stadium, and it was even bigger than the last.
"Not as many people came to watch, but as soon as the band took the field the band fans were screaming for support," Easton said.
There was at least three judges for every category in the competition: ensemble music, ensemble marching, color guard, individual marching, percussion, and entering or exiting the field. They give you points on scales of 0-100, 0-200, and 0-400, depending on the element being judged.
Band came in first in their class at the second competition.
"I was very proud of the performance that Saturday, and I know we will be even better and more prepared for our competition Tuesday," Easton said.
Each judge has a specific thing that he or she will comment on. "I wish I could comment on how amazing the saxophone soloist sounds, but that isn't in my job description." Marching judge Peter Warshaw said.
The band this year has at least three soloists, Junior Kimberly Blaha being one of those lucky few.
"I was very happy with my solo, I didn't think the crowd would cheer so loud." Blaha said.
Lucky for the band they have an active booster club that was able to save up enough money to rent out some charter busses. "
"The three hour trip to Katy was nice on the charter busses," Flores said.
The most recent of the contests was on Tuesday in Conroe. "We had to wait a little longer than expected, but when the time came the band gave a great performance," Easton said.
The band won the contest with ones across the board. "We had a few rough spots here and there, but all in all we gave a great performance."  Easton said.
With that, the marching band has with three wins under their belt and a whole lot of pride to take to their next competition on Saturday.