Almost Maine: A Romantic Comedy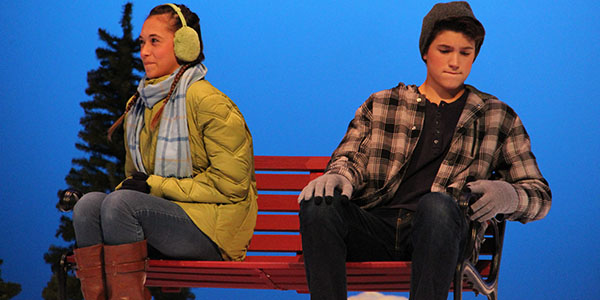 Actors and techies have both been working for weeks on the second show of the year, "Almost, Maine". The show is preparing to open the 13, 14, 15, and 18 of November in the auditorium featuring eight different scenes, each a different love story.
"Every scene has love in it which is what makes it special," Junior actor Nathan Farmer said. "There is many different kinds of love everywhere,"
"So far there have been five weeks of rehearsal, and we have had crew," Theatre director Robert Ballew said. Students come on Saturdays to help build the set and design the lighting.
"I believe that kids will be able to relate to some of the scenes, but react different to everyone," Farmer said. "Some scenes are extremely happy, and some just hopeless."
"To prepare I'm using different acting techniques that Mr. Ballew, and Ms. Dupuis taught me," Farmer said.
The cast and crew want to make sure there are no mistakes and each show is flawless.
"With live theatre anything could happen," said Ballew.
For some, this second show of the year is going to be different than others.
"This is my first main stage play and it feels amazing to be chosen for the part," Farmer said.  "I feel so honored."