Orchestra Prepares for Region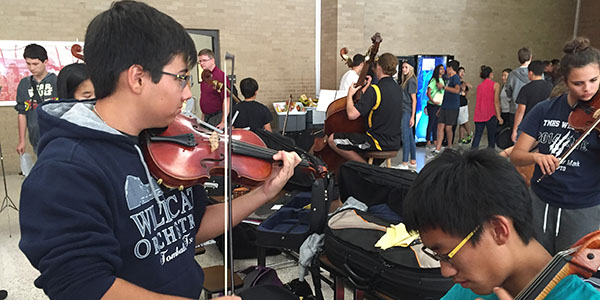 With Region Orchestra auditions just around the corner, students are hard at work preparing and practicing their audition etudes hoping to make it.
Students are given the audition music in March, so they can learn and practice it over the summer in order to be ready for the auditions on October 19.
"The audition music is very difficult to play," Orchestra Director Bryan Barrett said. "If you go to any other state and look at their music, the music in Texas is much more difficult."
On average, 12 to 13 orchestra students try out for region every year, and only eight to nine students are accepted to play with about 100 other students in the Philharmonic or Symphony region orchestras.
Senior violist Tam Le, a member in the chamber orchestra (the top group), has made region five times before, and isn't nervous about the audition.
"Based on my past performances," Le said, "I'm kind of used to it. Some of the other auditioners don't really do that great, so it's not as daunting."
Once a student has been accepted into the regional orchestra, they are given the music for the concert and are required to take it home and learn it. Then they go into rehearsal and apply what they learned. Then after about a month, the students will perform at Klein Forest High School on November 21.
"When put forth in the right way, competition is healthy," Barrett said. "It's good to not only compete against other people but against yourself. That's what region is all about."