Fine Arts Department Welcomes New Teacher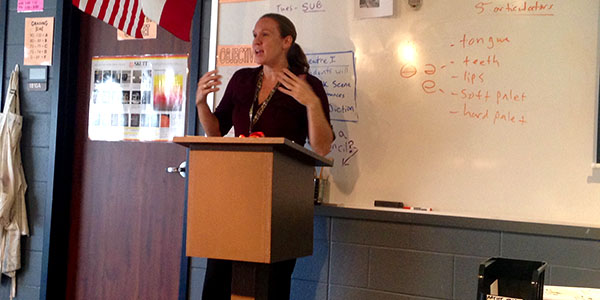 In response to the increasing number of students, the school's extracurricular activities have experienced increased growth and development. For the Wildcat Theatre and Art programs, the large influx of artists even created the need for an entire new teacher for the two subjects.
Samantha Calkins is now the third theatre director, and second art teacher. Despite being the newest addition, Calkins feels that she is adjusting easily to her coworkers.
"We work really well as a team," Calkins said. "Because we're really team-teaching, sharing the students."
Born in Freeport, Texas, and raised in Trinity, Texas, Calkins attended Sam Houston State University. Apparently, her expertise in the arts have developed over a very long time.
"My mom was best friends with her high school theatre teacher," Calkins said. "I was really raised around it."
Assistant Director Bonnie Dupuis explained that hiring Calkins was an odd process, and that she originally found the position posted on Facebook. Ultimately, it was difficult to find a teacher who specialized in both Theatre and Art, considering the intensity of both subjects.
"We thought that the only way it could happen was if she scenic painted, turns out she's a scenic painter," Dupuis said. "It was just kind of in the cards for it to be her."
Dupuis described the impact that Calkins has already had on Wildcat Theatre.
"In our art form, we all have our own language," Dupuis said. "To have a third to communicate to the students is huge, because she may be able to help cultivate the students that Ballew and I couldn't reach otherwise."
In spite of it only being the second six weeks, Calkins is readily engaged in her classes, and the Fine Arts department as a whole, and commends the school and its students.
"This is one of the best schools that I have worked at," Calkins said. "The classes I'm teaching are introductory level, so, for a lot of students, this is their first time in Fine Arts, and they get to learn what they like best. Mostly, I think they're enjoying themselves."
Sophomore Liz Grobe, although not having been in Calkins class yet, claims that Calkins is already making a positive impact on the Fine Arts department.
"We're rehearsing two shows right now, so there's a lot going on," Grobe said. "It's really nice to have even more direction and leadership."
Calkins, having previously taught Art and Theatre at Spring Branch middle school, described the new experiences of working at a high school, in contrast to younger ages.
"In middle school, it was the 'Color in the lines' kind of thing, and now it's real art, it's real theatre," Calkins said. "I just feel like I'm finally at a level I should be."