All-Stater Takes the Drum Major Tower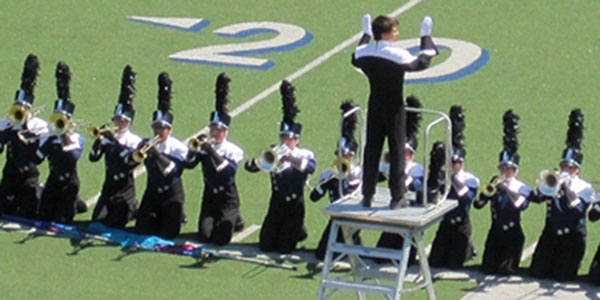 When most people think of band, they think of loud music, dancing in the stands at football games, and large formations on the field at halftime. They think of the fight song played over and over again and a parade block marching down the halls before schools starts. They don't typically think of the long practice hours, phrases of songs repeated over and over again until perfection, and the work that goes on behind the scenes that helps the band function. And they don't typically think of the drum majors.
Junior Daniel Toscano is one of the three drum majors that help run the band. He stands on his drum major tower and conducts, keeping the band in time. Without the drum majors, the band wouldn't be able to perform as well as they do. Not only is he a drum major, though, he's also a talented musician.
"I don't do much else other than band," Toscano said. "It it quite literally my entire life."
Toscano has played the clarinet for six years. He also plays the alto, tenor, and baritone saxophone, as well as the trumpet. In Toscano's sophomore year he qualified as ninth chair clarinet for all state, and is currently second chair clarinet in the Houston Youth Symphony.
"Starting out in beginner band I really wasn't all that great. After the first chair test I was 17th," Toscano said. "I practiced a whole lot after that and climbed up to second chair, and then first at the end of the year."
Toscano didn't always have his heart set on band. Going into choosing a fine art class before sixth grade, he didn't have much of an idea of what he wanted to do. But when Toscano saw the music program, he was curious.
"What got me interested in band was that in Mexico there's no such thing as a music program," Toscano said. "When we moved here I thought it was really interesting that the school had that."
Toscano's playing has caught the attention of many people in the years he's played. Even in junior high, people were noticing him.
"When I first heard Daniel play he was in seventh grade, and I could tell he was amazing," Band Director Andy Easton said. "I remember thinking he definitely had the potential to be an all-stater."
Toscano has learned much through his musical career. He's learned how to balance practice and school work through auditions, how to lead a group through being a drum major, how to be the best he can possibly be through his playing, and much more.
"I think the biggest thing I've learned from beginner band to now is that if you really love something, then go for it." Toscano said. "In the end, dedication pays off."