Band Advances to State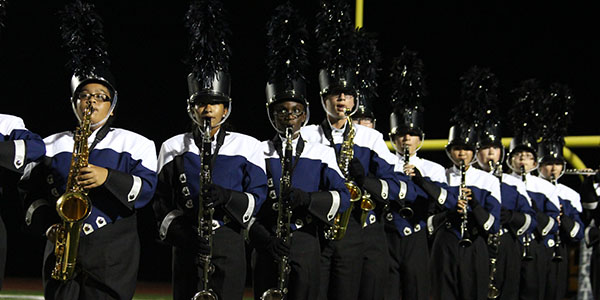 After months of practice, football games, and contests the Roarin' Blue Band traveled to the New Caney ISD stadium to compete in the 2015 UIL Area F Marching Contest, their most important contest of the year. They placed second in preliminaries and in finals, ensuring them a spot in the Texas State Marching Contest.
"The feeling when they announced us was mind-blowing," freshman Blake Ropers said. "It was incredible."
The band has worked on their show since June, making sure it was perfect in every way. They have competed in five contests this season, placing in the top three at all of them.
"This contest season has been absolutely unforgettable," senior drum major Taylor Hubbs said. "I've seen the band grow so much. I'm ecstatic to be able to help lead the band at state."
On Monday, the band will travel to San Antonio and on Tuesday, compete in the State Marching Contest. They will be going up against some of the best bands in Texas, many having won the State Marching Contest in years past.
"I'm very nervous to perform in the Alamodome on Monday," freshman Claire Heinrich said. "But I'm also excited. It's going to be an experience that I'll never forget."
When it was announced that the band had made state, the crowd erupted. Many band members, including the directors, were in tears.
"The feeling of giving a good performance is exhilarating, almost indescribable," Ropers said. "It feels like the whole world is revolving around you, and you can't help but smile and cry."