First Choir Student Makes All-State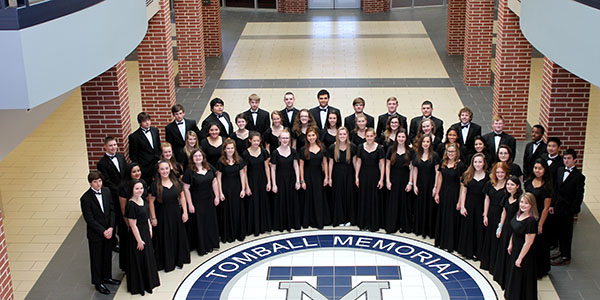 Anxious but somewhat excited, junior choir student Grant Wheeler waits for his turn to sing and audition for the All-State choir in Waco, Texas. This is the final audition after succeeding in district, region, and pre-area. Only a couple hours later, but what felt like many more, he learned that he had been accepted into the All-State choir.
"Before going into my audition I was confident, but still nervous, because I didn't know what to expect," Wheeler said. "This time, I was competing with boys from all across the state."
Wheeler has competed for All-State since his freshman year, but his history in choir started long before that.
"I've been in the school choir since the eighth grade, but I've been part of my church choir for seven years," Wheeler said. "My mom was the most supportive of my audition because she's actually a choir director."
He is also a member of the Roarin' Blue Band, so leading up to the audition it was essential that he found a balance between the two, with enough time to prepare.
"He's been preparing for this for a long, long time," choir director Sherry Miller said. "He would come in for weekly voice lessons, two to three hours a day."
As his choir director, Miller was required to attend the audition with Wheeler in Waco.
"I told him that he was prepared, that he had worked for this, and not to psych himself out. Just go in and sing," Miller said.
Miller had several choir students initially audition for region, but only a limited number could go to the All-State audition.
"Of an initial 1,000 people auditioning in region, it was narrowed down to only eight boys, including Grant," Miller said. "It's a very big honor."
Following his audition, Wheeler had to wait three hours before hearing the final result.
"I got there around 8 a.m, and didn't finish until 5 p.m.," Wheeler said. "I tried to keep myself preoccupied with games and sleeping."
When he finally heard the news that he had made it to All-State, he was ecstatic.
"I was freaking out, and super excited," Wheeler said. "I was hugging everybody."
Miller experienced just as much excitement and was very proud of Wheeler and his accomplishments.
"Through this entire process, he has grown as both a musician and as a person," Miller said.
Now that he has made it, Wheeler's next step will be to attend a convention and concert with the All-State choir in San Antonio. It was a long journey but it was well worth it.
"I love everyone who has helped me and supported me. The whole choir family, and the band kids have congratulated me," Wheeler said.
Wheeler is excited and proud to be the very first student in the history of the school.
"It's a great experience, and I'm very happy," Wheeler said. "It's a huge honor to be the first All-Stater from the school."