Music Matters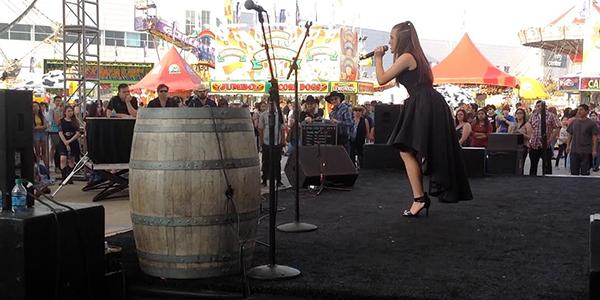 Throughout Houston, 31 people auditioned for the Junior Division of Rockstar Rodeo, which took place at the Houston Livestock Show and Rodeo. Only ten out of 31 were chosen to perform live, and only five people proceed to the finale. At the last minute, sophomore Gianna Sperduti decided she wanted to see how far she could go, and submitted an audition video.
Sperduti sent in her cover of Make It Rain by Ed Sheeran on the night of the submissions deadline. Her close friend, and guitarist, senior Anthony Ericksen stayed up late to help and make sure it was submitted on time. 
"I just thought, 'Why not?' It's an experience," Sperduti said.
Ericksen has been Sperduti's guitarist since their first performance at the German Christmas Festival in December 2015. Since then they have performed six gigs together.
"During our first performance, our last set really synced up," Ericksen said. "I realized I really loved performing with her and I wanted us to come together for more."
Sperduti's friends advertised her audition by writing the name of her video on whiteboards with instructions to vote for her. There were three weeks before voting ended, and voters were only permitted one vote per hour.
"I couldn't have done it without my friends, my parents, and my grandparents who helped me gain votes," Sperduti said. "I owe it to them."
One of Sperduti's best friends, and biggest supporters, sophomore Erin O'Conner, attends almost all of her gigs.
"We have been friends for six years," O'Connor said. "We met through volleyball."
The results for the Top 10 were posted on the website unexpectedly, and Sperduti was in class when it was posted. She didn't realize until after school when one of her friends, sophomore Garrett Minor, congratulated her on advancing.
"My friend ran up to me and told me that I made it, and I was getting texts saying congratulations," Sperduti said.  "I was the only one who didn't know."
For the Top 10 performance, Sperduti sang the classic rock song House of the Rising Sun by The Animals. The Top 10 Rodeo Rockstar performance was the first competition she had participated in.
"Knowing I was up against others and that I was being judged was terrifying," Sperduti said. "But all that went away when I was on stage. I was a different person."
Sperduti advanced to the Top Five for the junior division. She had five days to prepare another song for the finale, eventually choosing Who You Are by Jessie J.
"I grew up with this song. It's about loving yourself and always being who you are," Sperduti said. "A lot of people are judged, and there is not a lot of kindness in this world anymore, but this song helped me get through tough times. For the finale I wanted to do something I was passionate about."
Sperduti is used to small crowds, so the large crowd she performed for at the finale was new to her.
"When I performed for the Top Five, it took my breath away," Sperduti said. "The crowd was huge. It was definitely a learning experience."
Sperduti wanted to dedicate a specific song to a friend of hers that had passed away recently, but unfortunately, she wasn't able to.
"I wanted to sing If I Die Young by The Band Perry as a tribute to her," Sperduti said. "But someone else had already picked that song so I wasn't able to."
Sperduti has been writing her own songs for a couple of years now, and has even had an album on iTunes. She makes music her own by taking popular songs and making them genuine through authentic acoustic covers.
"I have my own genre," Sperduti said. "I gravitate towards modern music, but I make it my own with piano and guitar. I'm very versatile."
Sperduti strips down the music and pays attention to the lyrics. Once she finds a song she likes, Sperduti makes it her own by emphasizing the lyrics so the listener can hear what the writer is really trying to say.
"I believe that when I take away all the pop sounds, and all of the production, the lyrics shine and you can comprehend the meaning of them," Sperduti said. "You see the deeper meaning. I want people to see that songs aren't what you think at first unless you focus on the songwriter's lyrics and perspective."
At 11 years old, Sperduti auditioned for America's Got Talent, but due to a lack of preparation she did not advance past the audition. During her senior year, Sperduti plans on auditioning again.
"I haven't decided what song I would audition with, but right now I would probably choose House of the Rising Sun by The Animals or Elastic Heart by Sia," Sperduti said.
Although Sperduti was nine when her interest for music sparked, she only began performing at age 12, when a program called "Real Life Real Music" chose her to perform.
"I was a mess before I did my first gig," Sperduti said. "But then I realized that on the stage, where I'm completely exposed, I feel safe."