Choir Director Departs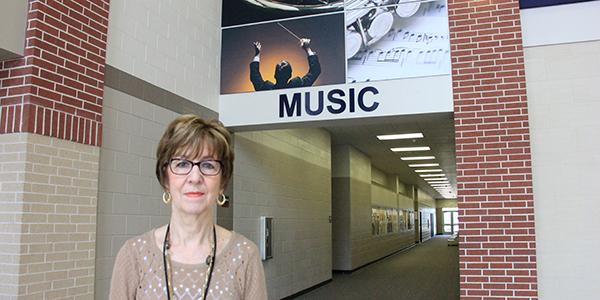 After five years of working at the school, choir director Sherry Miller has decided to retire. Miller has been working at the school since it opened in 2011, and before then, worked as the choir director at the junior high. Miller has worked in the district for 11 years.
In the five years that Miller has been at the school, she has taught men, women, and mixed choirs.
"I started thinking strongly about retiring in the fall, but it wasn't until after Christmas that I made the final decision." Miller said. "I feel that I need to spend more time with my family."
Since Miller has been the choir director since the school opened, she has seen the school and choir program transform into what they are today. According to Miller, the first year the school was open, there were only around 55 to 60 kids in choir. Miller was familiar with them since she taught them at the junior high.
"The first year the school opened, the choir was very small because there were only freshmen and sophomores," Miller said. "Even though we had a limited schedule we still achieved great successes."
Miller also participates in the choir at First Methodist Church. She has sang with this choir for seven years and plans on staying in the choir for as long as she is able to.
"I'm one of 24 staff singers for this choir, and others are volunteers, Miller said. "We are televised every Sunday on channel 57." Miller said.
While Miller's first-year students have graduated, some students who had her during the school's second year still attend the school. These students have been with Miller for multiple years. Senior Addison Allen has been in choir all throughout high school and has had Miller as her choir teacher since seventh grade.
"When I found out she was retiring I was dumbfounded; I didn't expect it. After she told us, everyone began crying," Allen said. "We were in Bandera on a choir trip, and I was comforting the underclassmen. Even though the news is sad, I'm happy for Mrs. Miller."
Although Miller doesn't plan on coming back to teach after she retires, she says that she will be supporting the choir and will be coming back to the school for choir concerts to see how the program is doing.
"It's bittersweet; I will miss the students and I'll miss the school, but I'm ready to have some time to do things I haven't yet," Miller said. "I'm starting a new chapter of my life."
In all of her working experience, Miller has worked in several different districts, but she refers to this district as the best she has been part of.
"I would describe my five years working here as rewarding," Miller said. "This school has the best students and administration, and it has been a great experience."