Singing Sensation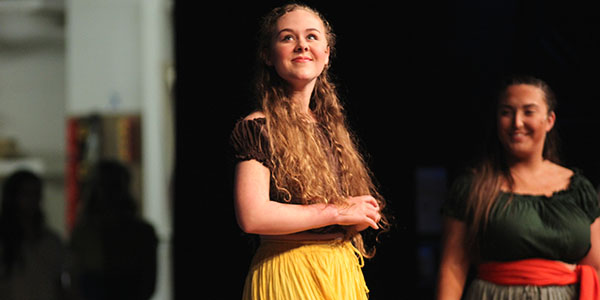 Sitting at the computer, she constantly refreshes the page, anxiously waiting on the edge of her seat for any information. Finally, she is told that the results are up. She's ready to log in and- but then realizes that she's forgotten her password. She tries to get a new password, but has to wait even longer for the it to be sent. After three agonizingly slow hours, she receives the information and logs in, ready to find out if she was accepted into the college of her dreams.
Senior Maddie Mackey has been singing in the choir since sixth grade. She worked for years, practicing and improving her voice. Recently, she tried out for and was accepted to Boston University, one of the best and most exclusive voice schools in the country, according to U.S. News and World Report.
"The audition was very stressful but also very exciting," Mackey said. "My whole family was freaking out and shaking me when I found out that I made it, but I just sat there, staring at the computer in shock. I couldn't believe it."
Not only had she gotten into Boston University, but she had gotten in with a yearly scholarship of $50,000.
"Honestly I thought there was a small possibility that I'd get into Boston but I never thought I'd be able to afford it," Mackey said. "Then I saw my scholarship amount and it blew my mind. I knew then I was going to Boston."
Mackey plans to study vocal performance with a focus in opera. After discovering that she had a strong voice in seventh grade, she began to consider opera. During her junior year she went to see a live opera and decided then and there that that is what she would study.
"I hadn't actually seen an opera until the end of my junior year, but when I did I knew that was it," Mackey said. "I cried when I saw it. It's such an amazing art form, and the fact that you can move people to tears with your music, even if it's in another language, is incredible."
Mackey has also worked with the Houston Grand Opera since her junior year to prepare her for college and beyond.
"I think one of the things that makes Maddie stand out from the crowd is her dedication, her passion, for music," Shannon Mackey said. "She also has a great work ethic, and when you put those three things together it gives her the edge she has."
Mackey never truly believed she would be able to go to Boston University, but it had always been her dream college. Even though it seemed impossible, she still worked for her dream and was able to accomplish it, gaining a large scholarship in the process
"When I was in seventh grade, when I was first starting to think about going into opera, I put in my Facebook profile 'I'm going to Boston University to study opera!'" Mackey said. "I honestly never thought I'd be good enough to get in, and now I've made it."