Choir's Newest Family Member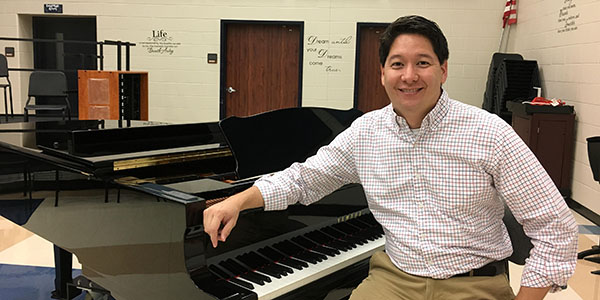 From working with 320 students and two assistant directors, going to 140 students and teaching two AP music theory classes, choir director, Jed Ragsdale started his first year in the Tomball District this year, formally from the Cy Fair district.
Ragsdale taught in Cy Fair for 18 years, at Cy Fair, Jersey Village, and Langham high schools before transferring to the Tomball district.
"Tomball is a great community. The students are amazing and I've always heard wonderful things." Ragsdale said. "I've always heard that the fine arts department gets along well and I want to work with that kind of team."
Choir president and junior, Tamara Lutta was one of the first people in the choir to meet Ragsdale, which was at the beginning of August a couple weeks before school started.
"The energy that he brought into the classroom was my first impression of him," Lutta said. "He's a step up but it's a step in a different direction, and because he has all new techniques we will see a whole new view on everything as individuals and as a choir."
In high school, Ragsdale was involved in his school's mixed choir all four years, and outside of high school he was involved in church and community choirs, and even took part in the Texas Master Chorale for eight years, but he decided to start staying at home more often after his son was born.
"I was trying to be more involved with my kids so I don't do the church or community choirs anymore and probably won't for a while," Ragsdale said. "The church choir was from 1998 to 2003, and then the Texas Master Chorale was from 1998 to 2006."
After high school, Ragsdale decided to attend Brazosport Community College, and while he was attending college he worked for an after school program with kids with low income, which there he decided to form a choir and that sparked his passion for teaching.
"I taught these children who didn't know how to read, write, or do math," Ragsdale said. "I decided to put together a choir to sing at the mall for Christmas, and it was then that I realized I liked teaching. That's what made me want to teach."
Before Ragsdale was a choir director, he wanted to be an optometrist. He planned on attending Texas Tech for biology, but changed his plans when he realized he wanted to go into a teaching career.
"I remember my high school choir director told me, 'You're going to be a great music teacher one day,' my response was 'No, I'm not going to do that,'" Ragsdale said. "But after high school when I realized I wanted to be a music teacher I called him and apologized and asked him what music schools he recommended."
The switch from Cy Fair to here has been very different from what Ragsdale is used to. Other than no longer working with assistants, he is learning how to fully understand how things are done at Tomball when they were done differently at Cy Fair.
"The system is different, the record keeping, all of the logistics," Ragsdale said. "A lot of the little things are slightly different, but the teaching is teaching, that doesn't change, but it's getting everything done that you're not used to doing."
Ragsdale started teaching officially in 1998, but started lead directing in 2005, and since then has taught varsity, mixed, women's, men's, and chamber choirs. This is just the first year that he hasn't had an assistant, and has taught every class on his own.
"Being the only choir director is very tiring, but I do enjoy it," Ragsdale said. "If there is anything that goes wrong, it's my fault and I'm okay with that and I can fix it, but I try to plan something and it goes wrong and I know what's coming ahead, I know what's going on and I'm prepared for it because I'm the one who's planning it."
Ragsdale said that part of his goals is to improve the choir and achieve straight one's at UIL in the spring, but also to help the students become successful.
"I hope I can take everybody to a whole new level of musicianship and enjoyment," Ragsdale said. "Hopefully the students can start something on their own. I feel like I have done a pretty good job in the past, developing these future leaders so that's another thing I want to continue to cultivate in my choir students."
Ragsdale is bringing some new traditions to the choir that he has done before that are new to the choir, such as 'The World of Song' which the chorale will be performing at in February.
"I participated in this with my choirs in Cy Fair until about six years ago, so when I transferred to Memorial the organizer of the performance called me and asked if I'd like to come back, to which I said yes," Ragsdale said. "We will rehearse 10 to 12 arrangements, but we will hammer through."
Ragsdale hopes to be able to teach students skills that they will be able to take with them after high school, even if they don't pursue a career in music.
"You may not sing once you graduate high school ever again, that would be unfortunate, but I want you to use what we learn here and help you and benefit you later on when you are trying to solve your own problems. Everybody is demanding something from you."