Wildcat Theatre Presents Triangle Factory Fire Project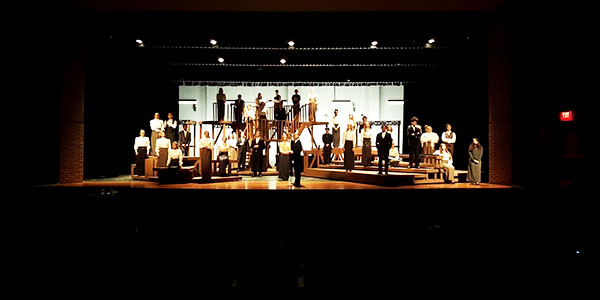 One-hundred-forty-six souls lost their lives on March 25, 1911 in New York City in one of the deadliest industrial infernos in history.  The tragedy of the Triangle Factory Fire resulted in tougher labor laws to seek justice for the lives lost on that fateful day.
According to osha.gov., "The Triangle factory fire remained the deadliest workplace tragedy in New York City's history until the terrorists attacks on the World Trade Center 90 years later."
However, this was a very preventable disaster.  It brought attention to the labor movement and to other reforms, such as the rights of women and immigrants.  The factory executives, in defiance of the law, locked doors to prevent working girls from stealing, and did not keep the fire escape open to allow people a quick escape.
"Unfortunately the only fire escape collapsed during the fire due to the weight of all the girls trying to climb down," Erin Magill said.
Wildcat Theatre has taken on the challenge to portray this somber event, bringing attention to an event from 105 years ago that is still relevant today through the play The Triangle Factory Fire Project.  They have devoted hours into this play in order to showcase the story accurately.
"We have watched documentaries on the fire in 1911," Magill said.  " We also researched each of our characters individually to find out what countries they immigrated from, how long they had lived in America, and what their lives were like in the early 1900's."
The knowledge that this play is based on a true story made the cast and crew want to portray the event the best way possible, in honor of those lost in the fire.
"We were very self-critical to make sure we justified their life in the specific way we saw fit," Magill said.
In addition to the tremendous contribution of the actors and actresses, there is also quite a bit that goes into the show behind the scenes.  The technicians and costume designers have done their own extensive research to make sure that the set and costumes match the time period.
"I handmade all of the skirts using actual patterns from 1911," Marilyn Wechsler said. "So it's really cool to look at the cast and see them wearing exactly what they would wear in that time period."
The Wildcat Theatre department has dedicated a great deal of time and effort into this play.  The Triangle Factory Fire Project is a bittersweet production which will be entertaining for its audience, but also remind them of a significant historical day  in remembrance and honor of the lives lost.
The Triangle Factory Fire Project will be showcased Thursday the 22nd, Friday the 23rd, Saturday the 24th, and Monday the 26th at 7 o'clock pm.  Tickets are $10 and can be bought at all lunches or at the door.