Ending Marching Season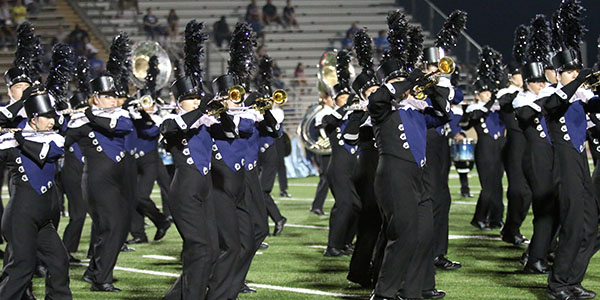 After many months of practices, games and contests, the Roarin' Blue Band ended their 2016 competitive marching season at the Waller Marching Contest, taking seven awards with them.
"We worked so hard all season," sophomore Juliette Chojnacki said. "I knew it was worth it when they announced that we won many awards."
The band took home the awards for Outstanding Visuals, Outstanding Colorguard, and Best in Class 5A during prelims. During finals, they were awarded Outstanding Visuals, Outstanding Colorguard, Outstanding Music, and Grand Champion.
"We showed everyone what we could do as a band," sophomore Katelyn Grantham said. "Emotions really had so much emotion in it."
After prelims, the band held first place with Tomball High School close behind. To keep their first place position, they had to perform with as much energy as they could muster.
"Everyone got invested in the finals performance," senior clarinet section leader Sean Walsh said. "We performed with everything we had, and I enjoyed it a lot."
Next year is a State year for the band, meaning they will be working to enter the State Marching Contest. This year, 4A and 6A bands competed to make it to State. Next year, 1A, 2A, 3A and 5A bands will be competing. Much of what is done during "off-years" is to prepare them for the state contest to come.
"I'm really excited for the state year," freshman Amber Rogers said. "I can finally know what everyone means when they talk about how amazing it is to perform in the Alamodome."
After warming up, the band marched onto back field. The crowd, packed with their family and friends erupted when they came into view. As the band stood waiting, ready to take the field, Easton gave them one final speech.
"You have worked incredibly hard all year long. This show is yours, put your whole heart into it," Easton said. "Give it everything you've got and leave it all on the field."