Color Guard Begins Contest Season Strong With New Director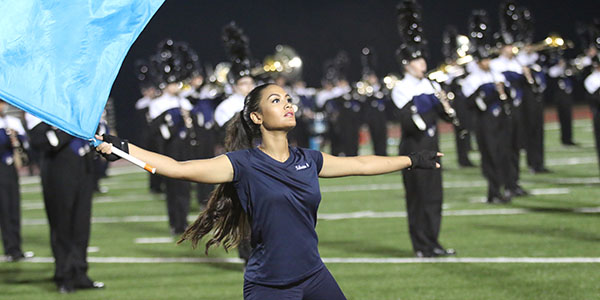 Five directors in three years. This is what the color guard has gone through – almost a new director every semester. But finally, after three years, they have settled down with a stable director and are building themselves back up.
"It's nice to have a stable director after three years," junior Mahsa Kardani said. "She's doing a great job building the team back up."
Now that marching season has ended, the color guard are entering their contest season, known as winter guard. They are split into two teams: varsity and JV. Each one has a routine that they learn to perform at contests.
"I'm really excited to do these two really fun and creative shows," color guard director Brittany Shepherd said. "Varsity is doing a show themed around business workers, and JV's routine is centered around 1950s housewives."
With each new director also comes a new technique. One of Shepherd's main focuses was to make the technique uniform for all the members of the guard.
"Guard isn't just judged by the timing of their flags. They're also judged on all the little details, like what their hands look like under their equipment, if they all look the same, and more," Shepherd said. "I wanted to clean all of this to make them look more solid and uniform across the board."
Before coming here, Shepherd taught at many other schools, some even overseas.
"I went to England and Ireland about four years ago to help them write their routine and clean it," Shepherd said. "It's a lot different over there. Color guard is way bigger. That's how I want to make it over here."
When the first director left, many members of the color guard left. Now, the team is growing again. Much of the guard is new students.
"It's been good to turn the guard around, and they're growing super fast," Shepherd said. "I have 19 new students this year."
At the Waller Marching Contest, the color guard was awarded the Outstanding Color Guard award at both prelims and finals. Many people, both in and out of the band, were proud of them for accomplishing this.
"They performed so well this year. I'm really proud of them," sophomore band member Claire Heinrich said. "After all they've been through with different directors, going through four or five of them, and now taking home two outstanding guard awards… I think it's amazing."
The first winter guard contest is on January 25 at Morton Ranch, and Shepherd would like to have many people come out to see them perform.
"I think it's going to be a good first contest," Shepherd said. "The best part of this year was not knowing how well they would do and pushing them to get better until they reached their potential in just one season. The future looks bright."