Performing at the Texas Thespian Convention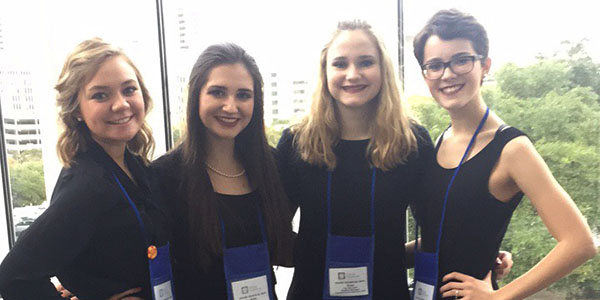 From dancing to sewing to acting, Wildcat Theatre students got to perform and learn more about their art last weekend on a trip to Dallas for Thespian Convention.
"Texas Thespian Convention is the biggest theater convention in the nation," senior Savanna Perkola said. "Different schools perform shows, and there are workshops where professionals teach many types of classes."
Convention is not only a learning experience, but a chance for students to compete in performance. For the first time ever, this year, Wildcat Theatre competed in the Group Musical event.
"I got a text in July," Perkola said. "A couple of students sent one out to several theater students that said rehearsals for Group Musical would begin later that month if we were interested."
Thirteen people decided to participate; three boys and 10 girls. Together they worked to perfect their acting, dancing, and singing for the competition.
"I thought it would be fun to perform in the show because I love singing and acting, and the dance was fun to learn," Perkola said. "We're the very first group to represent our school in this category, and I think that's a really unique thing to be able to say."
The group worked hard in preparation for the convention, rehearsing after school for about three days a week.
"How often we practice depends on our individual schedules," Wildcat Theatre Business Manager Alleese Eldridge said. "Because some of us are in orchestra or choir, it can be hard to get everybody together at one time."
Eldridge and her friend Lauren Grobe initially came up with the idea of entering Group Musical because they wanted to compete in something they love and enjoy. Taking initiative, they recruited several other students and decided upon the song "Nine to Five".
"We felt like their was a hole in how we do stuff in terms of competing and we just didn't take advantage of it as Wildcat Theatre," Eldridge said. "We've done it because it's a really good way to figure out what people like in theatre."
Since then, the group has not only grown in their vocal and dancing skills, but also in terms of leadership.
"My favorite part of rehearsals was that it was student led, collaborative, and we got to talk openly and say what was on our mind," Eldridge said. "When everybody gets to input it took longer, but we also got to pull from a wider pool of ideas."
This method was helpful because each participant had their own talent to offer. Silver Star Junior Lieutenant Bonnie Garcia choreographed and taught the dance to the group, with the help of sophomore Bailey Snyder.
"Because the group isn't very familiar with dance, I tried to choreograph according to what they knew how to do," Garcia said. "I worked to make it look interesting with formations, so the dance is more about effect than heavy choreography."
For the event itself, the group had 5 minutes to perform. If they made a mistake during their introduction, or went overtime, it would have resulted in automatic disqualification.
"The rules are that we can only wear black," Garcia said. "So all the girls have black character shoes and black dresses, slacks, or leggings."
While the group is excited to have finally competed, they have also enjoyed the time it took to reach this point.
"We all have become such good friends through the process, because we've been together for practically 3 months at this point," Perkola said. "We take it seriously, but also know how to just lighten up and have the fun. Rehearsals have been the highlight of my days."