Going Behind the Scenes of Technical Theatre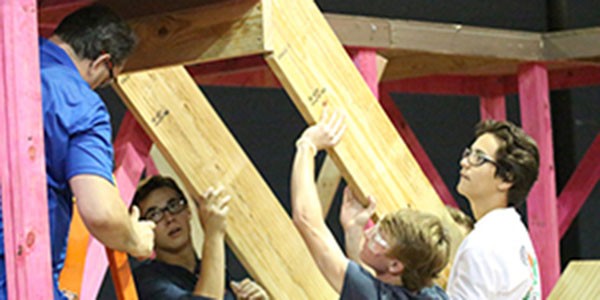 The theatre is pitch black and silent. Everything is completely still until a shadow cloaked in black walks in under the unilluminated "show in progress" sign. The figure hurries into the booth and in an instant, several rays of light gleam throughout the theatre, just in time for the incoming actors.
Technical Theatre consists of all the elements that contribute to the production of a theatrical show.  The technical theatre program, directed by Charles Page, offers multiple classes for those interested.
Page recently started his first year teaching on the campus and has various years of experience, specializing in light design.
"I was skeptical at first," senior technician Jack Carder said. "He was a little intense, but I got used to the faster pace."
Many students aren't aware of the hard work technicians put into preparing for a show. Lights, sound, costuming, props, and scenery are all components that must be incorporated into a production. Without technicians, some say naked actors would be standing in the dark trying to emote.
"We spend easily two hours a day and eight on weekends, making it about twenty hours a week," Carder said. Students in a casted production are expected to go to every crew workday during the weekdays, and on Saturdays, with few exceptions.
Months are spent in preparation for shows. Sets are made for safety and efficiency, props are constructed for realisticity, and costumes are sewn with much detail, all in hopes that the audience will feel emotionally involved with the production.
The days leading up to the production are known for being high in stress. The week before the show is called "tech week", where dress rehearsals occur and last minute touches are added.
Every cue must be practiced with precision and accuracy. If one is missed or skipped, it not only confuses the other technicians, but the actors who have to compensate for the mistake as well. Communication is key while backstage.
"What audiences don't see are the technicians scrambling around in the wings to make sure what can be seen is perfect," Carder said.
For some students, it is much more than just a high school production. It's a lifestyle and they want to continue working on future shows.
"I plan to possibly go to college in pursuit of a job in the technical theatre field," sophomore Will Rossiter said.
Technicians dedicate their time to the show and get their thanks from the applause of the crying or laughing crowd they hear from beyond the curtains. They are responsible for the magic that makes audiences time travel.
"Technicians aren't just your backstage crew. We don't just move props or set pieces, but create the world the actors tell the story in," freshman Natalia Pesola said.