Sophomore Steals the Show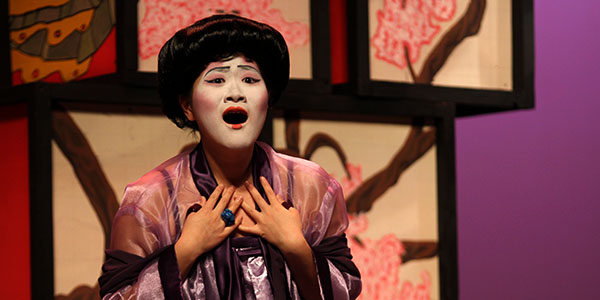 As the curtains open, lights shine, and hundreds of expectant eyes await, sophomore Eu Jin Kim dances onto the stage in swirling purple robes and colorful makeup. It is time for the first bi-annual children's show, and she is the lead.
Kim starred as Princess Jade Pure in Wildcat Theatre's presentation of The Land of the Dragon, with performances on Thursday, Friday, Saturday, and Monday. This is her second show, with her first being the Triangle Factory Fire Project.
"During Triangle rehearsals, the cast was really supportive," Kim said. "It was fun and interesting to see different aspects of theatre come together to create a show for everyone to enjoy. After that show, I fell in love with theater, and decided to try out for the children's show."
When Kim saw the cast list over winter break, she got much more than she expected.
"I looked at the bottom of the cast list at first, but couldn't find my name," Kim said. "When my friend told me to look up, I saw it. I was so excited and happy because I was not expecting the lead role."
Even more unexpected was the lighthearted attitude of the show in comparison to shows Kim has done in the past.
"I adored the script," Kim said. "Since my first show was a dramatic show, I wasn't used to comedic tones."
Through cast get-togethers and long rehearsals filled with jokes and fun, Kim has grown close to her castmates.
"It's been great to grow together as a cast while working hard on the show." Kim said.
On stage, Kim's character interacts the most with the "cousins," or her distantly related maids. These exchanges were the most entertaining to Kim.
"I played the 21st cousin," junior Brittany Sam said. "At the beginning of the show, Eu Jin's character has very low self esteem because our characters tell her she's unattractive, but by the end, she learns her self-worth."
Kim resembled her character in several ways.
"Eu Jin and Jade Pure are both very full of life," Sam said. "They both know when to do the right thing."
On a lighter note, Kim reflects her character in a comedic tone as well.
"Jade Pure and I are both very goofy and silly," Kim said. "I feel like she is a happy go-lucky character who knows how to have fun, while also having a serious side."
In addition to the children's show, Kim had academics and advanced classes to stay on top of.
"It's a bit difficult to juggle everything, but I knew that everyone else had the same problem," Kim said. "I tried to manage my time as efficiently as possible, and if I had any extra time in my classes, I began my homework."
The Land of the Dragon was unlike anything Kim had experienced in theatre before.
"Since I had a larger role, I had greater responsibilities," Kim said. "I have grown a lot more as an actress through this show."
Theatre was always something Kim wanted to be part of, but didn't have time to pursue until her freshman year. Over a year later, she's closed her first leading role.
"My love for theatre has grown tremendously through a supportive cast that I'm grateful for," Kim said. "This has been such an amazing experience for me, and I'm so glad that I was able to be a part of this show."