Chorale Performs at Annual FACE Concert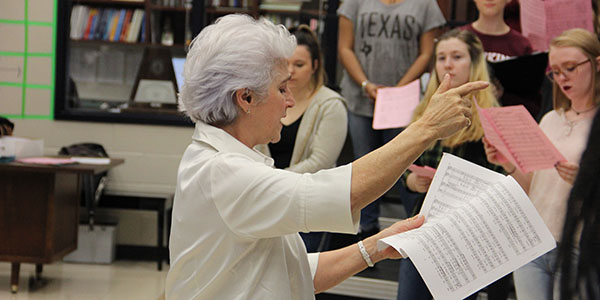 This past Saturday, the varsity mixed choir, Chorale, was invited to perform at the 17th annual FACE concert at The Centrum. FACE (Foundation for the Arts and Community Enrichment) is an organization that celebrates the arts of various cultures around the world.
Chorale performed alongside the chorale's of Klein, Klein Collins, Klein Forest, Klein Oak, and Montgomery high schools. The concert was conducted by guest director Maria Guinand. Guinand is Artistic Director of Schola Cantorum of Venezuela and conducts choral projects throughout Latin America, Europe, the United States, and Asia.
"The experience of performing at the FACE concert was one I'll never forget," senior Chorale member Lauren Detter said. "Learning the new music from Mrs. Guinand was fun; she incorporated dancing into the performance, and I had a great time."
FACE rehearsals were intense – students rehearsed for four hours each day. Rehearsals were held on Tuesday, Thursday, Friday, and Saturday before the show.
"While the rehearsals were more extreme than those we've had before, they were worth it; hard work paid off," senior Chorale member Katie Greenberg said. "I enjoyed singing in the combined choir of around 300 students."
If Chorale gets invited to perform again next year, director Jed Ragsdale will accept it.