Art Students Advance to State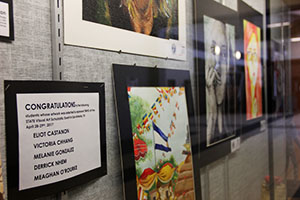 Walking into the unfamiliar school had students' stomachs in knots. The anticipation for what was to come was simply overwhelming.
On Saturday, February 18th, 47 students from Tomball Memorial competed at the regional competition for the Visual Arts Scholastic Event, or VASE, competition. Of the 47, Eliot Castanon, Victoria Chhang, Melanie Gonzalez, Derrick Nhem, and Meaghan O'Rourke got the exciting call that they made it through to state.
"VASE has been very inspirational for my students and has motivated them to improve their art," art teacher Meredith Tieman said.
For weeks these students had been working on their projects, constantly tweaking and perfecting their art. The upcoming competition had them determined to create to the best of their abilities.
"When I got the call saying I made it to state, I became excited to see what going would be like," art II student Melanie Gonzalez said.
Gonzalez's progress since arriving at TMHS is significant; she's seen herself grow as an artist. She believes this is one of her best pieces yet.
"With VASE, you get to meet other artists and see artwork from around the region," art teacher Samantha Calkins said. "It's not just an art competition, it's a social event."
Participants can meet students like themselves, and make new friends that share their interests.
The VASE state competition will be held April 28th-29th at James Madison High School in San Antonio, TX. 2,000 entries have advanced to state, with half guaranteed an All-State Superior Rating. Some students will be awarded Distinguished Status with the Gold Seal Award.
At the competition, students have the chance to create pieces in hopes of being granted a scholarship.
VASE is a great opportunity for young artists, allowing them to showcase their art and meet new people. We wish our five students luck as they compete at state in April.