Color Guard Competes at Klein Forest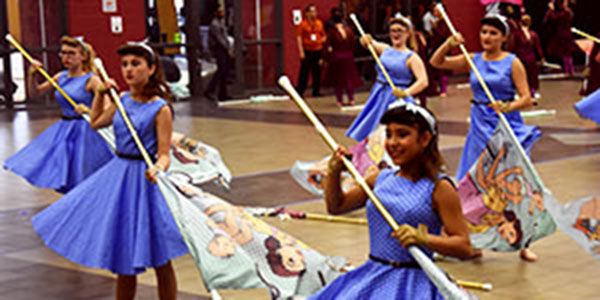 At the Klein Forest Color Guard competition, the varsity Color Guard placed sixth overall, and JV placed seventh overall, with a five-point difference between first and seventh place.
Varsity's show was titled Suit and Tie, and they performed to Tori Kelly's version of Suit and Tie.
The students performed with desks to set the scene as an office and had several flag sets, a rifle line, and a dance line.
The JV show was titled 9 to 5 and that team performed to Dolly Parton's 9 to 5. They performed with many props to create the scene of a house. They also had several flag sets, a rifle line and a
dance line.
 Both teams had several one to two hour long practices two or three times a week.
"I took practice seriously, and since it's my senior year, I'm making the best of it," senior Katherine Aguilar said.
The color guard members displayed a strong work ethic.
"I perform in class like I'm on stage," freshman Noelle Reynolds said. "I mentally run through the show and practice at home as well."
The call time to be at the school was 10 a.m. with hair and makeup done. The hair was very difficult for the girls to do by themselves. 
"I woke up at 4 a.m. to do my hair and makeup so that my look would be great," freshman Jordan Reynolds said.
At the competition, there were many opportunities to relax and have fun before and after performances.
"My day was amazing because we became friends with people from other color guards," freshman Louise Zanoria said.