Choir Returns From NYC Trip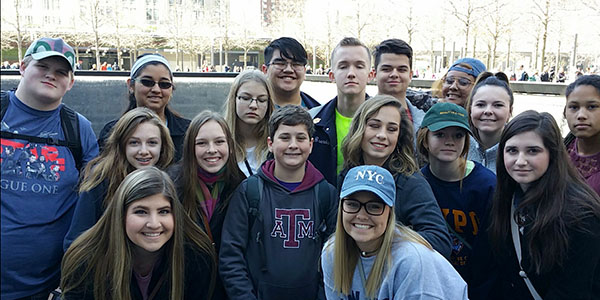 As the plane flew over the brightly lit city, the 76 choir students and chaperones knew they were in for the trip of a lifetime.
"New York City is always very busy; everywhere we turned there was something new," choir president Tamara Lutta said.
"I think my favorite part of the trip was seeing the musicals," Chorale member Hannah Poe said. "We saw School of Rock and Wicked. Both casts were so talented and have inspired the choir to listen to more musicals."
On the third day of the trip, choir members were presented with a choice; either go to Central Park to look around and take pictures, or go to Radio City Music Hall for a tour. While both offered distinctly different experiences, students did not regret the choices they made.
"I chose to go to Central Park," Lutta said. "It was absolutely gorgeous, and when we went to the tunnels beneath the park, there was an opera singer performing."
On the other hand, students also enjoyed Radio City Music Hall.
"When we were onstage and I looked out into the audience, I felt like we were becoming part of the theater's history," Poe said.
"I think that this trip has helped us get along better as a group," chorale member Steven Romero said. "Now that we know each other better, everyone is a lot more comfortable hanging out with people they normally wouldn't talk to."
The choir program started putting out flags during holidays five years ago to help financially support students who would like to go on the yearly choir trips. For every flag a student installs for those with a subscription, they receive $1. Students receive another dollar when they pick the flag up a few days later and return it to the school.
"The thing that I love about the flag program is that it gives so many students who normally wouldn't be able to afford to go on choir trips an opportunity to experience wonderful things with their friends and classmates, and everyone in the community really enjoys the flags," choir director Jed Ragsdale said.
"I think this trip was definitely a success," Ragsdale said. "Taking this many students and chaperones to New York City is always stressful, but seeing the excited looks on everyone's faces when they see the city for the first time makes all the work worth it."