Drum Majors Chosen for Next School Year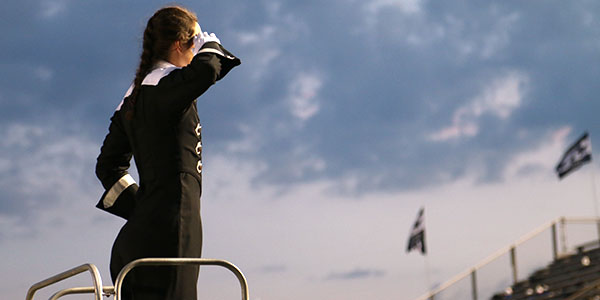 After many hours of practice, marching, conducting, and a long audition, band director Andy Easton has selected the drum majors for the 2017-2018 school year. Current sophomores Claire Heinrich and Blake Ropers and junior Jack Miesen will take the podium next year.
"I was so nervous," Heinrich said. "I wanted to be drum major so much that one time I even woke up in the middle of the night to conduct."
The audition process takes about 10 days, starting with interviews. Easton individually interviews each candidate to see if they seem fit for the position.
"The interview seems pretty scary before you go in," Heinrich said. "But once he starts talking, it actually gets a lot better and more relaxed."
The week of the audition, the current drum majors gave three clinics that helped the candidates with their conducting, commands, marching, and salute- the four major parts of the audition.
"The clinics were super helpful," freshman Blaise Alfredson said. "Even if I didn't make it, I learned a lot for next year's audition."
The new drum majors have already begun their meetings and responsibilities. They will help judge the section leader auditions this Friday.
"We had our second meeting on Tuesday," Heinrich said. "At the section leader tryouts, we have to walk around and watch everyone and take notes."
The three were already close friends, and now are becoming even closer as they work together to lead the band.
"I'm so excited to work with Blake and Claire," Miesen said. "They're both great and hard workers. It's going to be great."
Marching season officially kicks off on the Monday after school gets out at Mini-Camp. The drum majors will be teaching the entire band the basics of marching at this camp. After this point, the leadership team, specifically the drum majors, are in full gear.
"The three drum majors are wonderful kids," Easton said. "I know that this year is going to be amazing."