Dancing Through the Pain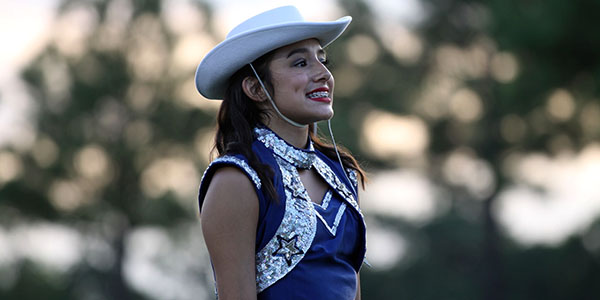 She emerges onto the stage in a delicate, soft manner. Heart racing, she prepares to dance as raw and beautiful music begins.
Freshman Silver Star Natalia Gonzalez recovered well after an extreme case of scoliosis, continuing to dance.
Gonzalez experienced numerous symptoms of her scoliosis such as misaligned hips and a hump on her left side, leading to a confirming diagnosis.
"When I saw that x-ray, it didn't seem real that was my back," Gonzalez said.
Usually, surgery for scoliosis is necessary when the curvature percentage is past 40% and Gonzalez's was at 68%. Surgery concerned Gonzalez, especially since it could potentially have a drastic effect on her dancing career.
"It didn't scare me at first, but then I realized I'd have to have two titanium rods and 18 screws in my back to fix the issue," Gonzalez said.
Knowing her options were limited because her back had progressed so rapidly beyond the point of a back brace, Gonzalez proceeded with the surgery.
"She was such a strong girl and all of the sudden she wasn't," mother Connie Gonzalez said.
To her doctor's surprise, Gonzalez was walking the first night after her surgery. Normally, people recovering from this surgery won't begin walking again for almost a week.
"I'd have to learn how to dance, get out of bed, and walk straight again, Gonzalez said.
Although, Gonzalez's back was too weak to dance herself, she was determined to learn more every day, observing as many dance classes as possible.
"She would sit and watch her solo videos. She had just competed in a prestigious dance competition in April before her surgery, earning 7th place," C. Gonzalez said.
Since then, Gonzalez has trained hard over the summer to become a Silver Star. Being a healthy athlete, Gonzalez has healed significantly following her surgery.
"One day she woke up and just felt better," C. Gonzalez said.
Now, Gonzalez's goal is to potentially have her own solo this year. In the future, she plans to be a Silver Star for the rest of high school and attend school at Kilgore College to be a Rangerette.
"It's going to take baby steps to get to where I was before," Gonzalez said. "But I'll do it."