Band Student Marches to Composing for UIL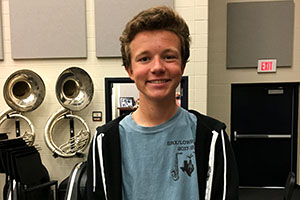 The lights come on, and the eager band sits on the stage, ready to begin the piece. The conductor walks up to the podium and preps his baton, giving the band a determined smile. Each person on stage comes together to make the piece sound gorgeous, taking the audience for a ride, but one pivotal person is not up there with the band. No, he sits at his computer, making sure the music is perfectly written.
Sophomore Max Gray began composing music his freshman year. Since then he has composed numerous pieces of varying styles, including jazz, quartets, and concert band pieces.
"I started composing after a semester of jazz band," Gray said. "We had composition projects that introduced me to it."
He started composing a few measures at a time. Those eventually evolved into full concert pieces that can take weeks, even months to compose.
"Ideas for pieces don't always come easy, and you can't force them," Gray said. "Sometimes I have to put it aside and come back to it later, like after a few weeks of break."
Gray has published multiple pieces, such as his saxophone quartet Dance of the Haunting Ones and his full band piece March of the Forest.
"My favorite piece I've ever written is easily March of the Forest," Gray said. "I put so much time and effort into that one."
Gray plans to have March of the Forest published on the UIL prescribed music list: the list of pieces directors can pick from for competition.
"Getting on the UIL list is insanely hard," band director Andy Easton said. "It's a huge accomplishment. I think he can do it, if not now then sometime in the future."
Gray has come a long way since he began composing.
"The first piece I ever composed was this thing called TrumBari. It was awful," Gray said. "I love looking back on that and others to see how far I've come, it impresses me every time."
Gray plans to study music composition in college, so he can eventually become a professional composer.
"I've definitely found my dream, " Gray said. "I can't wait until I get to publish things that people will know the names of, even if they haven't played them."
A huge turning point for Gray was the first time someone bought a piece from him. He and three others performed one of his quartets at a summer camp, and afterwards a teacher asked if he could buy it to perform with his professional sax group.
"That was honestly one of the best things to ever happen to me," Gray said. "Knowing that someone liked my piece so much that he wanted to show the world what it was made me feel such a sense of accomplishment. That fuels me to keep working to get better every day. I know one day I'll get published on the UIL list."