Freshman Guard Member Twirls Way to Top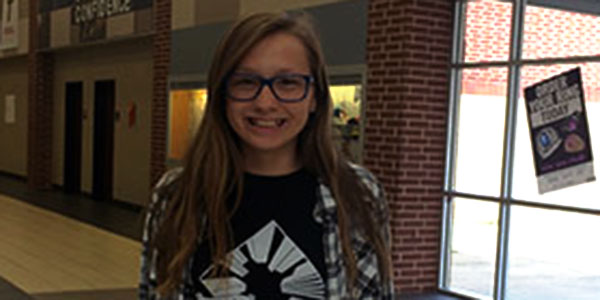 Walking confidently out on the field, she sets her flags in the right mark and looks up to see the blinding lights and the roaring crowd. For her this is just another performance, for others this is their very first. She's not nervous and she takes her starting pose and waits for the show to start.
 Freshman Emery Stonecipher has been in color guard for two years. Most Guard programs don't start Guard until high school, but her old school, Central York in York, Pennsylvania, had a guard program at the middle school.
"I always remember going to the football games as a little girl and seeing the flag twirlers," Stonecipher said. "I always wanted to be a part of it."
Stonecipher loved her team and was sad when she had to move. She felt a bit weird joining a new guard program and not knowing any of the other girls. She was very nervous to start at a new school.
"It felt weird joining at first, but I like it better than my old guard," Stonecipher said. "Everyone is so welcoming and happy."
Stonecipher joined the guard pretty late into marching season, but because of her experience, she was given a spot. She picked up the work very fast and is keeping up pretty well.
"Emery became part of the team pretty late into the season but she tried her very best to keep up with the rest of us with a positive attitude ," Squad leader Louise Zanoria said. "She'd even ask me to help her on the side, which shows that she cares about getting better.
Stonecipher is doing very well in the show and is happy to be a part of the guard program. She loves the girls on her team, the directors, and everything about it.
"I remember in fourth grade, it was the last football game of the season and for once my dad let us stay for the full game so we would see the halftime show," Stonecipher said. "I saw the flag performance and I was really amazed by it. Then in middle school I got into it and the feeling I got when I picked up the flag felt like this is what I needed to do."