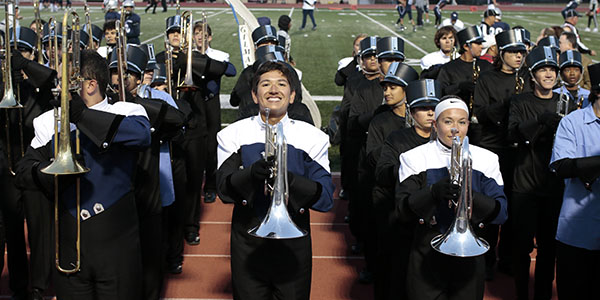 After achieving first place in their contest at Galena Park on Saturday, the Roarin' Blue Band is headed to State among 35 other schools next week. In the school's seven years of existence, this is the third time Band will go to State in a row.
"I feel like this year we're better than we've ever been," Director of Bands Andy Easton said. "We're more prepared to go to San Antonio and perform really well."
Their success has been long in the making, considering the Band started practicing for their show Eureka in June.
"We do a little bit in June and a little bit throughout July," Easton said. "But officially, we start practice on July 31."
In addition to half-time performances at each Varsity Football game every Friday night, the Band have spent their Saturdays at contests.
"To get to State, we had the UIL Region contest, which you have to place first division in," Easton said. "Next is Area, where we advanced to finals and then won first place."
Performing for State in Alamo Heights is a goal the Band has been looking forward to for a very long time.
"We would have been very disappointed if we did not advance," Easton said. "With a Marching Band, you never know."
The Band is bigger now than it has ever been, but they did not let a lack of uniforms keep them from going further.
"Performing the show right now is 305 students," Easton said.
The Band will have a very specific process of preparation, beginning with a short run-through.
"We have a 45-minute block of time to warm up," Easton said. "After that, we have five minutes to set everything up, eight minutes to perform, and two minutes to get off the field."
Easton is excited to see how the Band executes their routine at State and is proud of how far they have come.
"Everybody's been working really hard," Easton said. "It's been really cool to see how everyone's come together, I think we've got a really strong chance."
The students in Marching Band are just as overwhelmed with excitement, and ready to see what happens next.
"My first thought when we made it to State was 'Oh my gosh this is awesome!'," junior Drum Major Claire Heinrich said. "And then I looked up at the stands and saw everyone freaking out, which made me so happy."
Heinrich and the entire Marching Band are currently preparing for their upcoming trip to San Antonio.
"I'm most excited for the amazing feeling of walking into the Alamodome," Heinrich said. "You're just standing in a tunnel with all of your friends, wishing each other luck. It's a great feeling."
Despite the intimidation of performing at State, the Marching Band is not giving in to nerves.
"I'm definitely nervous because I'm scared for the worst," Heinrich said. "But I'm still so excited to lay our hearts on the field."