Band Prepares to Perform at State Level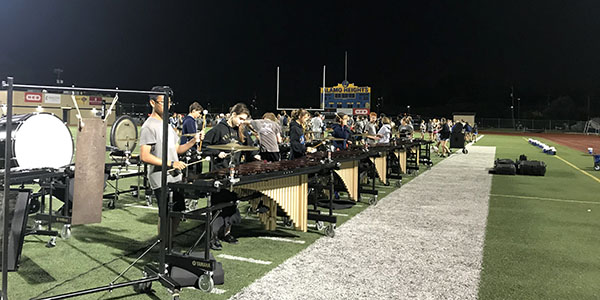 The Roarin' Blue Band arrived in San Antonio and immediately began rehearsal to ensure a good performance. The nerves are high, but so is the excitement.
"It's a breath of fresh air to see what our hard work has brought us, to experience it in real life," freshman Katie Ford said.  "It's becoming more and more real every minute."
Although, San Antonio weather has been below 60°, that hasn't stopped the band from doing their best.  The band is enduring the cold weather and pushing through, making each practice before their final performance worth it.
"It's so cold.  I keep popping my fingers and it feels like they're going to shatter," senior Jack Miesen said.  
The band is due to perform at the Alamodome at 5pm on November 8th and for many, this will be their first time to perform here.
"I love hearing juniors and seniors who have been to State before talk about the experience of playing in the Alamodome," sophomore Emma Sawyer said.  "To see their faces light up with that passion is so exciting to me, that they can remember every detail still."