Wildcat Theatre Returns from State Festival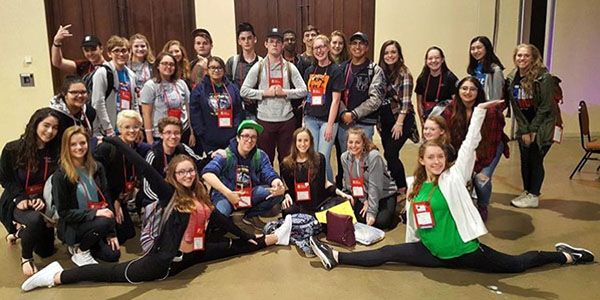 In the couple days prior to Thanksgiving break, most students counted down the minutes to Friday, while others attempted to ace their abundance of final tests. But Wildcat Theatre was at Texas Thespians Festival, attending workshops about acting and technical assets, or auditioning for college auditions and competing in state contests.
Several seniors auditioned before a panel of colleges from across the nation, either performing a monologue, singing, or showing off their best work in technical theatre. Four actors received callbacks, including Wildcat Theatre president Delanie Kitzman, who is now being recruited by 27 university theatre programs. In addition, Kitzman was awarded a $1,000 scholarship from EDTA.
In terms of competing, multiple members of Troupe 7690 qualified for nationals. Senior Jacob Mendez advanced in acting for his monologue performance, and junior Will Rossiter advanced in tech by presenting his lighting design from the last school show Doublewide Texas. Finally, the Group Musical advanced for their performance of Pandemonium, and participants are listed below.
Taylor Bench
Skylar Desuk
Toni Holewinski
Blake Brown
Alleese Eldridge
Bailey Snyder
Ashlyn Martin
Meredith England
Hailey markovsky
Nationals takes place over the summer in Lincoln Nebraska, and qualified troupes nationwide are invited to attend.