10 Things You Didn't Know about Sister Act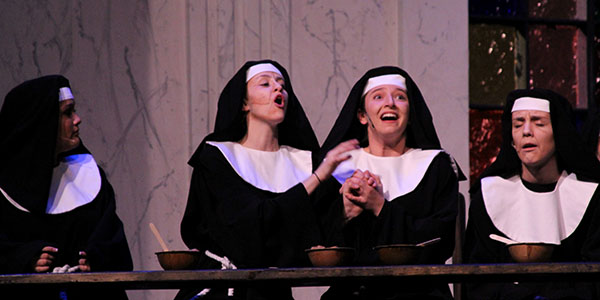 The 2017-2018 musical, Sister Act, will premiere in the auditorium on Thursday, January 25.
Here are a couple facts about the upcoming show the average student may not be aware of.
The primary auditions were all the way back at the end of the last school year.

There are 37 pieces of music that the orchestra needed to learn.

Tickets are $20 at the door, but if students buy them at lunch they are only $15. Tickets are $10 for junior high students and senior citizens.

It includes one of the biggest sets the school has seen to date.

Rehearsals began in September.

Cast members have had separate dance, singing, and stage rehearsals to perfect every aspect of the show.

Drill team girls in the show as Featured Dancers have worked hard to divide their time between contest season and rehearsals.

Cast and crew rehearse approximately 18 hours a week, and practiced several times over winter break.

Sister Act is a celebratory show about friendship, change, and learning to put others first.

The production is a huge collaboration between dance, theatre, choir, orchestra, and band to make it the best that it can be.
The show will play Thursday, Friday, Saturday, and Monday at 7 pm, with a matinee on Saturday at 3 pm.