She's Fabulous, Baby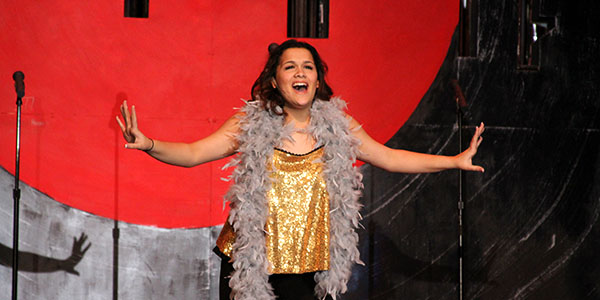 Twirling in the brightened audition room, her hopes to perform have never been bigger.  She sings her heart out and dances until she is gasping for air, smiling widely.
Sophomore Julie Chacon won a part in the upcoming musical, Sister Act, by auditioning for theatre director Bryce Ballew.
    "Julie is exuberant, talented, energetic and prepared," Ballew said.  "I'm very excited to work with her.  I can't wait to see her future."
    The toughest part of the audition process for Chacon was the waiting.  She had a feeling of anticipation because she was hoping to receive the part due to her talent and hard work, and there was a lot of wondering and thoughtfulness that went into waiting on the results.
    "I've been singing and dancing almost my whole life as well as singing in the choir for so long, so I really wanted the part," Chacon said.
    For her audition, Chacon sang "My Strongest Suit" from the musical Aide, because the song's sassiness and humor conveyed her personality.
    "When I found out I had received the part, I was extremely shocked and super excited," Chacon said.
    In the musical Sister Act, Chacon's character wants to make music but witnesses a murder. Her character gets sent off and observes singers in a church who want to sing but aren't very musically talented.
     "I enjoy my character because she introduces the church singers to music and encourages them," Chacon said.
      Chacon is fully prepared for the time and effort that goes into Sister Act because it conveys what she genuinely loves to do.  
    "I'm ready to be working my hardest and dedicate my time to the musical," Chacon said. "It would be my dream to become a performer one day and sing for the rest of my life since it makes me so happy, so I'm beyond thankful for this opportunity."
    Sister Act is full of chances for those trying to get into acting and technicians working on the show. The cast and crew contains over 50 people between the two disciplines.
    "This is probably my last mainstage show," senior Katie McCarver said. "I'm glad that there are so many new faces that I'm able to bond with, including Julie's."
    Every two years, the Fine Arts Department collaborates to put on a musical across the different disciplines.  The final performance will include band, orchestra, Silver Stars, choir and of course the theatre department.
     The cast and crew of  Sister Act perform on Jan. 25, 26, 27, or 29 at 7:00 pm.  Saturday will also have a matinee performance.  
    The last joint Fine Arts musical was two years ago, called Once On This Island.