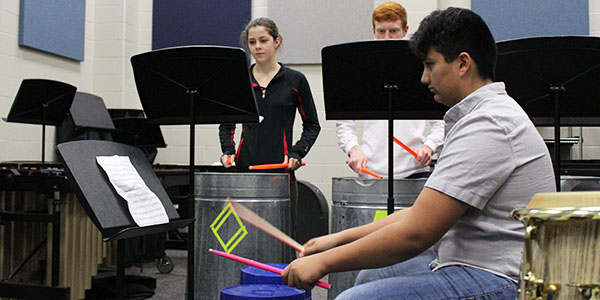 The Roarin' Blue Band percussion students will be putting on their annual Night of Percussion show, titled Journey, on February 10. Admission is free for all audience members.
"We've been working on this performance for over two months," sophomore Abby Cascarelli said. "We're all really excited to put it on."
Not only is the high school section performing, but the show will include performances from Willow Creek, Canyon Pointe, Northpointe, Oakcrest, and Willow Wood.
"The show opens with performances from the elementary schools, and then goes up by school level," sophomore Pablo Toscano said. "It's cool to have all the schools there together."
The show will be approximately two hours and feature ensembles playing on typical percussion instruments, steel drums, and even PVC pipe.
"One of the coolest pieces we're playing is our boom-whacker piece," Cascarelli said. "We use boom-whackers- those tubes that make certain notes when you hit them on PVC pipe to play a piece. It's really hard because we all have different whackers, so none of us have the full melody."
The show is put on to feature the percussion, which is often in the back of the band and hidden by other performers.
"The percussion gets forgotten a lot," Cascarelli said. "Everyone hears us, but we never really get features, so we put Night of Percussion on to give us all the recognition we dream of."
The show will open with Willow Creek's orchestra and Canyon Pointe's hand bell choir, and then progress until the eventual finale put on by the majority of the high school percussionists.
"The finale is going to be one for the books," Cascarelli said. "It'll have black lights, trash cans, buckets, glow in the dark stuff, dancing, and more that I don't want to reveal. It's going to be quite the show, and everyone should come."