Silver Stars Shine their Way into Contest Season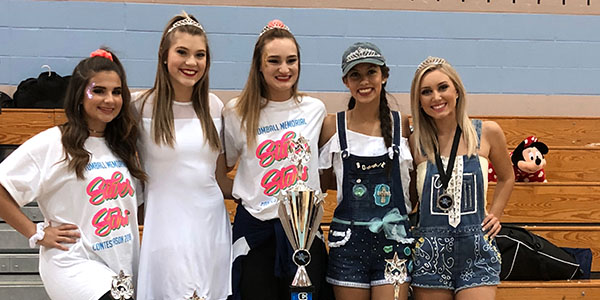 This past weekend the Silver Stars dance officers competed at Turner High School, winning first place for their Officer Jazz, Officer Novelty, and Officer Lyrical, allowing them to win Overall Grand Champion Officer Group.
"I was really proud of how hard we worked leading up to this contest," senior captain Lauren Murray said. "It was rewarding to hear the recognition from the judges."
The officers have been preparing for this contest since last school year when they began working on their officer lyrical piece. Since then, they have been practicing everyday during their officer period to perfect these dances.
"They are truly dedicated and constantly push themselves," social president Caroline Buchanan said. "They stop at nothing to make sure each routine is perfect. Their hard work was truly evident at this contest and the results were genuinely rewarding for them."
Also last weekend, first lieutenant Lexi Cross won 11th grade solos, this meant that she got to perform her solo for the whole contest again during awards.
"It was all so sudden," Cross said. "I was heading to awards and I had girls come up to me to tell me that I won and I had to dance again. It was really surreal until I was out on the floor dancing. Halfway through, I turned around and saw my team and suddenly nothing mattered except doing my best for them. It was an experience I will never forget because my team is so supportive."
Many other soloists also placed. Murray won first runner up for 12th grade solos, senior lieutenant Madi Huber won 2nd runner up for 12th grade solos, senior lieutenant Bonnie Garcia won 4th runner up for 12th grade solos, Michaela Ramos won 4th runner up for 11th grade solos, Caroline Valdes won 2nd runner up for 9th/10th grade solos, Emmy Cross won 3rd runner up for 9th/10th grade solos, and Mary Ellen Pratt won 4th runner up for 9th/10th grade solos.
"When my name was called for a top soloist spot, the first thing I felt was overall shock," Ramos said. "I couldn't help but tear up. The fact that I choreographed my own solo and it was capable of scoring so well was a very proud moment for me; I will never forget that feeling of accomplishment and excitement."
The ensemble group also took first place. This group consists of the five dance officers and seven line members.
"I was so happy that all of our hard work finally paid off," junior Leah Trascher said. "I wouldn't want to experience this with any other group of girls."
The Silver Stars had an unforgettable first contest and are excited to see what the next two contests holds for them.
"I'm in ensemble so winning first place with that dance made me so excited for what this season has to offer," sophomore Sara Thomas said. "Plus, last year I wasn't really in all the dances, and this year I am, so I can't wait to compete with our routines."