Band Reveals Show Theme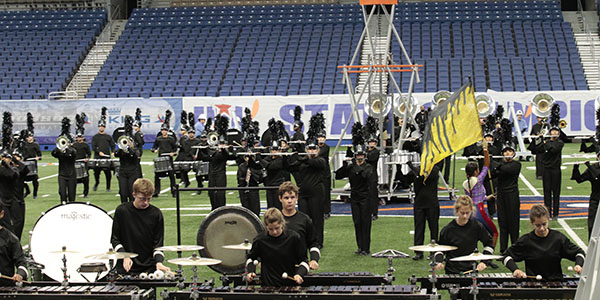 After many months of anticipation, the Roarin' Blue Band's 2018-2019 marching show theme was revealed: Clair de Loon.
"Everyone was so excited when it was revealed," sophomore drum major Blaise Alfredson said. "It's different, it's twisted, and it's awesome."
The theme is based around the piece "Clair de Lune" by Claude Debussy, but is purposefully spelled incorrectly. A loon, as it is spelled in the title, is a type of bird, as well as a reference to the word "lunatic."
"I think it's really cool and original," junior drum major Claire Heinrich said. "It's a good start to show off our 'new' band in the 6A competition. People will remember it."
A distinct feature of a loon is it's haunting call, which is part of the reason why the band directors chose it to be a basis for the show, which will be darker than previous shows.
"It's different than what we've done in the past," pit captain Isaiah Johnson said. "Our shows have always been sort of happy, and now this one is dark and twisted."
The show will feature the melody of "Clair de Lune" merged with other dark pieces. More props will be used than ever before as well.
"We're trying to make the show better every year," band director Andy Easton said in a meeting with the student leadership team. "This year is going to be way harder than last year, just like last year was harder than the year before."
This dark twist comes on the heels of a changing look for the band. Brand new uniform designs were revealed to the students in March, and new people were hired to write the marching drill and music.
"There's a lot of great things our directors have in store for this year," Heinrich said. "I think everyone will like it."
Marching season kicks off on June 4 with mini camp, which will be followed by color guard camp in early July, leadership training and drum camp in late July and summer band in August.