Summer band kicks into high gear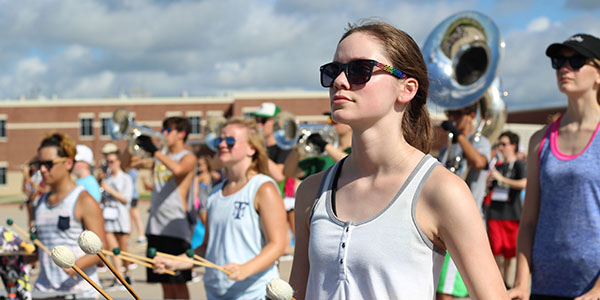 The second week of summer band saw returning students and freshmen settle into the routine of learning drill, new music, and how 6A differs from 5A.
"It's ridiculously hot," junior Amber Rogers said.  "We all just push through."
Well over 300 band members march on the field at one time, in comparison to last year's total of about 270.
"Mr. Easton asked the soloists to help with drill since we don't move for most of the beginning," senior Emma Jakoby said.
This year's theme, Clair de Loon, involves challenging music and more complicated sets for the band to learn.
"The front ensemble will be playing four-mallet for a lot of the show," percussion director Chris King said.  "They look and sound really good."
Band camp began on July 30, with percussionists starting a week before for drum camp.  The battery  and the front ensemble split into their respective sections and learned from hired technicians to improve their skills.
"Our technician was so patient and helpful," junior Lindsay Brassell said.  "We learned a lot from him and got to know each other better."
The schedule of learning new sets only changes on Friday, Aug. 10, when the entire band takes group pictures for the yearbook.  However, their new uniforms are yet to come in, posing a dilemma.