'Nerding out' for the first show of the year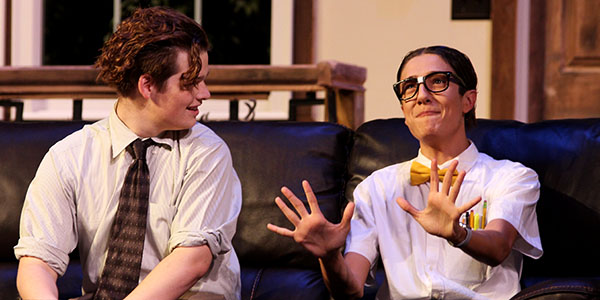 Wildcat Theatre will premier their first play of the year, "The Nerd" by Larry Shue, on Thursday Sept. 20. The comedy follows an architect's birthday party, which takes an interesting turn after the man who saved his life in Vietnam turns up.
"The best thing about this play is the absurdity of it," senior Bailey Snyder said. "I think that multiple scenes will make people laugh really hard. It's a funny show."
Construction of the set began in early August, finishing around Sept. 5. Students put finishing touches on other design aspects, such as lighting and costume, as time went on.
"From the box, everything looks really good," senior and lighting designer William Rossiter said. "I'm proud of how it all came out."
Since then, theatre students put about 14 to 20 hours per week on the show, from time in-class and after-school to weekend rehearsals.
"Everyone should come see 'The Nerd,'" junior Hailey Markovsky said. "We've been working on it since June."
Other showings include Friday Sept. 21, Saturday Sept. 22, and Monday Sept. 24. Tickets cost $10 per person.