Percussionists sweep Drums of Fall contest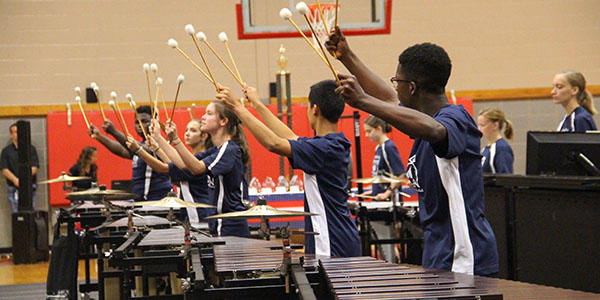 With We Are the Champions blasting through the band hall, percussionists new and returning carried in a trophy taller than themselves after a massive win at the Tomball High School Drums of Fall contest.
The Roarin' Blue Band drumline and front ensemble swept the competition, taking home seven out of eight possible trophies for best in 6A class snares, basses, toms, cymbals, front ensemble, first place 6A, and overall Grand Champion.
"Walking onto the floor, I felt pretty confident in our performance," junior pit captain Isaiah Johnson said. "It was still really awesome to hear our name called for seven different awards, though."
The contest kicked off with a shaky start: warm ups were pushed back an hour and everything had to be hastily moved inside due to rain.
"It's no big deal, this won't affect us," band director Andy Easton said while addressing the percussionists and crew. "We're still going to go out there and be great."
The percussionists were not thrown off and continued through the turbulence, securing a successful clinic performance and moving on to the contest portion with confidence.
A standing ovation greeted the musicians after the conclusion of their contest performance, the energy of which carried over into the awards ceremony.
"I'm so proud of the percussionists, both the drumline and the pit," junior pit captain Abby Cascarelli said. "We've improved so much since last year, and we keep getting better."
The full band will have their first contest on Saturday, October 6 at Galena Park.