More than just an "Act"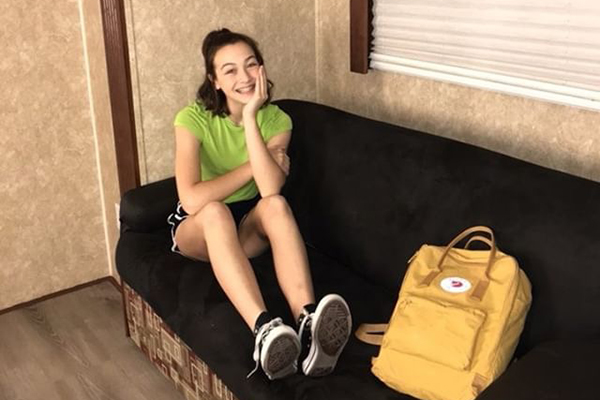 With passion for acting and adrenaline running through her veins, she walks on set and waits for her cue. After hours of retakes, she hears, "And that's a wrap on Riley's scene," followed by clapping surrounding the set. Filled with exhilaration from the experience, she immediately knew this was her calling.
One year after jumping into the world of acting, sophomore Riley Patrick landed a minor role on an upcoming Hulu Original show, "The Act," alongside stars such as Joey King and AnnaSophia Robb, among others.
"I was jumping around when I got the call," Riley said. "It's so exciting, especially since it's with well-known actors."
Riley has known ever since she was little that she wants to be an actress. Her dream became reality when she got in contact with an acting agency and began auditioning for different roles.
"I've only been auditioning for about three months, so it's very surreal," Riley said.
Two weeks ago, Riley and her mother, Meiling Zelahy, fought off Hurricane Michael on the drive east to Savannah, GA, where the cast and crew filmed every scene.
"We had to leave a day early to beat the storm," Riley said. "It was definitely worth it in the long run."
Despite driving up in heavy rain and driving back home in the wee hours of the morning, both are grateful for the experience.
"It's something she will remember for the rest of her life," Zelahy said. "As a mom, it's so cool to share this memory with her."
Though it was a minor role, Riley learned valuable tips from actors and directors and even had her own trailer.
"It was such a neat experience," Riley said. "Patricia Arquette talked to me and gave me advice about my footing."
Being behind the camera is where Riley feels at home, so she hopes to land more roles in the future and pursue acting beyond high school. However, she does recognize the importance of school.
"I would only not go to college if I landed a major role," Riley said. "Even then, I would still try and attend school."
Zelahy encourages her with whatever she chooses to do, whether that be acting or nearly anything else.
"I support my kids 100% with whatever they are passionate about," Zelahy said.
She has seen Riley spread her wings and grow into her own person since she found her passion.
"When she was young she was shy and would cling to me," Zelahy said. "Now she is much more comfortable in her own skin."
Riley's sister, Ren Patrick, has seen her break out of her shell and grow more confident as well.
"I always saw the potential that she had to be an actress or entertainer," Ren said. "It's awesome to see her open up and be assured of herself."
Ren is proud of who her sister has become, and knows she is talented enough to achieve her goals.
"Seeing her go after what gives her happiness makes me proud," Ren said. "I think she can do anything she puts her mind to."
Throughout her journey so far, Riley has realized her passion for being on camera and would love to be cast again as soon as she can.
"I just want to keep acting more," Riley said. "It's addictive."