Writers' Club hosts first ever poetry slam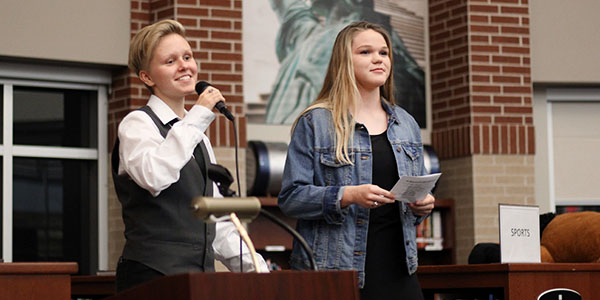 For the first time ever, the Writers' Club hosted a poetry slam, open to anyone who wanted to watch or participate. Despite having a rocky start to the day with sponsor Laura Smith's absence due to a health-related problem, the officers and staff members stepped up to ensure the show would go on.
"We were without someone to help us run the event," junior and club president Elizabeth Venier said. "It was down to my officers and I."
Fortunately, librarian Doris Greenstreet stayed the whole night to help with the event. English teacher and department chair Janet Stackhouse also helped prepare throughout the day.
"We had a lot of great people and support from amazing staff members," sophomore and club historian Victoria Sellens said. "I thought it was a success."
During the event, performers explored different topics such as love, heartbreak, anxiety, politics, death, and self-love. The floor was open to all students, not just members of Writers' Club.
"My favorite part of the event was that members of the audience who weren't originally on the list decided to perform," junior and secretary Carley Martin said.
About 50 people came to watch, and  approximately 25 performers participated. The event lasted for about an hour and a half, concluding with an open floor.
"The show ended with a rapper who got up to perform a song he wrote," Venier said. "It was really well done."
Sellens was happy with how respectful the slam was, and recognized the support everyone had for each other's writing.  
"I really enjoyed the relaxed atmosphere," Sellens said. "It made it easier to not be nervous about sharing something very personal."
Overall, the officers were happy with the turnout and deemed the poetry slam a success.
"I would definitely want to do this again," Martin said. "We had such a great turnout and it was a great time for everyone involved."