Indoor percussion to perform at Fine Arts Festival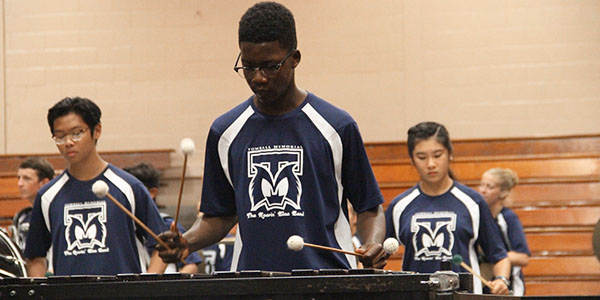 For the first time, the band formed an indoor percussion ensemble, comprised of both drumline and front ensemble musicians.
"Mr. King announced the ensemble at the end of November," drum captain Pablo Toscano said. "He waited until after Night of Percussion to put it all together."
The ensemble's show is entitled "The Enigma" and is meant to be dark and mysterious.
"The show is essentially split into three parts. Part one builds up the common theme of the show, dark and strange," Toscano said. "Part two is more lyrical and long. Part three ends the show in a faster tempo with higher dynamics, making for an exciting finish.
The ensemble's performance will be at the Tomball Fine Arts Festival on May 4.
"I'm excited to perform," sophomore snare player Baxter Fry said. "It's really cool getting to do drumline and pit percussion year round."
Practices are every Friday afternoon for about two hours.
"Playing as an ensemble has been a great experience for all of us. We are all learning something, whether it be how to play together, how to play faster, or how to play more musically," Toscano said. "We're all doing something we love to do. Being a part of a group that puts 100% into a show is not something that you come across often, but this group does exactly that and it's wonderful."
While they don't currently compete, the ensemble hopes to eventually transition into competitive indoor percussion, much like Tomball High School's team.
"I hope we get to compete and play harder music next year," Fry said. "I love playing the music all together."
Not all of the percussionists are part of the indoor team, but many were excited to join and want to do it again next year.
"I definitely want to do this again," Toscano said. "This is an experience that I might never come across again, so I have to enjoy it while it lasts."