Dancing into a new role
Senior steps up as captain of the drill team
Hang on for a minute...we're trying to find some more stories you might like.
 As she picks up the envelope, a feeling of anxiety and excitement rushes through her veins.  She quickly tears it open and reads the results, her dreams of becoming captain finally coming true.
 Senior Caroline Valdes will serve as the 2019-2020 drill team captain. 
 "I cried tears of joy," Valdes said. "It was easily one of the best days of my life. I was so overwhelmed with emotion that one of my dreams came true." 
 Valdes made it on the drill team her freshman year, and has dreamed of becoming the captain since. 
 "Silver Stars has definitely been my favorite part of high school," Valdes said. "I got to see and experience different leadership styles as a freshman and sophomore. I learned a lot from all of them."
 Besides leading the team on and off the field, Valdes has more responsibilities as captain.
"
We always want to walk off the floor knowing we did our absolute best."
— Caroline Valdes
 "I'm second in command to Mrs. Nail," Valdes said. "I'm in charge of everyone's field commands, I step us off at practice, I make sure our formations are right, and I make sure everything runs smoothly."
 This year, Valdes hopes to maintain the reputation of the Silver Stars and continue their streak as Grand Champions.
 "I want us to perform well in every dance we have," Valdes said. "We always want to walk off the floor knowing we did our absolute best."
 While preparing to become captain, Valdes kept certain qualities of former captain Lexi Cross.
 "She was like a breath of fresh air," Valdes said. "She was selfless and humble and I'm trying to embody that this year stepping into her shoes." 
 The Silver Stars have a long, but rewarding process when it comes to selecting the dance officers. 
 "We start off with an officer notebook, but this year was the first year we did a google classroom," Valdes said. "We have to write an essay over why we want to be an officer, respond to articles, answer a written interview, go to an in person interview with guest judges, choreograph a solo and group dance, and lastly give music and formation ideas." 
 Valdes hopes to leave a legacy of selflessness. 
 "She has a servants heart," Dance teacher Samandra Nail said. "She always puts the team first and is never all about herself. She wants to help her team be the best they can be, not just dancing, but the best representatives of the Silver Stars."
About the Writer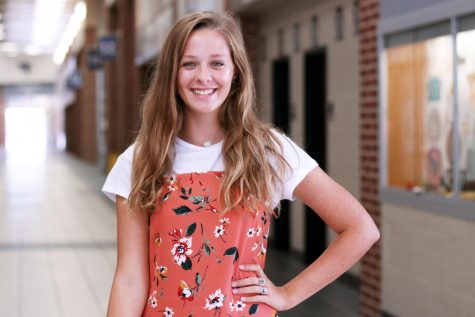 Madaline Cannon, Copy Editor
Hey, my name is Madaline, I'm a senior and this is my third year writing for The Post. This year I'm serving as Copy Editor and I'm so excited. I'm also...