Theatre prepares for first show of the year
"A Piece of My Heart" will debut in September
Theatre cast and crew members have worked tirelessly since May to produce the play "A Piece of My Heart", coming this September. The play, writtern by Shriley Lauro, is based on the real life stories of six female nurses serving in the Vietnam War and the letters they wrote at the time of their service. 
"We started with auditions," sophomore and lead performer Paige McMichael said. "Then we had a read through. Afterward, we blocked the scenes, ran through them, and then did scene working. After that, we started adding props, then doing technical and dress rehearsals. We work after school from 3:30 p.m. to 5:30 p.m. and on Saturdays from 9 a.m. to 2 p.m. And finally, there's the show."
Along with McMichael, who plays the understudy of nurse Mary Jo Kincaid in the show, there are a number of other performers.
"We are an ensemble," head theatre director Robert Ballew said. "Everybody works together for the same goal. There are six primary actresses, and on the matinee, there is a whole different cast."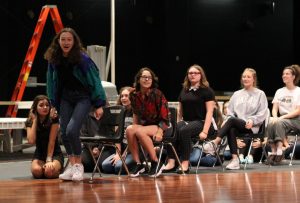 Ballew also worked with theatre teacher Charles Page, who designed the scenic sets for the production. The entire production is running quite smoothly so far.
"So far they're really ahead of the curve," Ballew said. "We set some goals for them to be as prepared as they could during the summer, and we are rockin' and rollin'." 
With the performance coming up, McMichael has started to feel the anticipation of the show.
"I'm really excited to see how the audience, especially my friends, boyfriend, and family respond to it," McMichael said.
Along with being a play about the effects of war, "A Piece of My Heart" is also a play perfect for high school actors. 
"I love it," Ballew said. "It is a great vehicle for young performers to get to know subject matter that has a great deal of emotion and allows them to tell a story more easily. It's gonna get you a team, and that's what we're looking for here."
McMichael is also challenged by the role. 
"This is probably one of the hardest shows I've been in emotionally," she said. "Just because of all the events that happen through the show, it's taught me so much."
The play's subject matter holds significance to Ballew as well. For him, the material really hits home.
"My father was a Vietnam vet," Ballew said. "I read a lot of his letters, and so they really resonate with me." 
"A Piece of My Heart" will have live shows on September 26, 27, 28, and 30. This includes two Saturday matinee showings. The play is two hours long with a 10 minute intermission.