Saxophone quartet advances to national festival
Five years of hard work and growth, all leading up to a national honor designated for the most talented student musicians in the country.
After performing at various venues together since eighth grade, senior saxophonists Blaise Alfredson, Ben Bourg, Max Gray and Amber Wigle will perform as a quartet at the Music For All National Festival in Indianapolis this March.
"We have worked so ridiculously hard for the past five years," Wigle said. "It was all practice and group effort."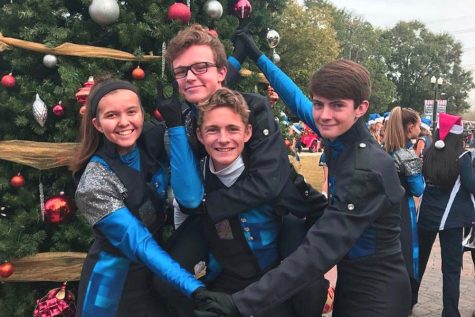 During the State UIL Solo and Ensemble competition last year, a judge approached the quartet with the opportunity to audition for this festival, assuring he would put in a good word for the musicians. 
"I remember we all tried to keep our cool in the room," Gray said. "As soon as we got out we started to freak out and look up as much information about the festival as we could."
The Music For All festival showcases various musical talents from students across the nation, and receiving the chance to perform among such ranks is a high honor for any ensemble.
"This is one of the few things I'm so proud to talk about," Wigle said. "Mr. Easton, our band director, even pulled us in front of the entire band to say what a big deal it is."
A major part of why the quartet sees themselves as successful is their group chemistry and ability to work with one another to grow as artists. 
"I know they are going to put in the work and do their part," Bourg said. "It's really relaxing, and we just enjoy making music together." 
Alfredson knew that the quartet was a good fit after first coming together in eighth grade. 
"We had a lot of fun rehearsing and playing together," Alfredson said. "It just became a thing after that." 
Though they originally thought they didn't make the cut, when band director Andy Easton received a phone call with their acceptance he immediately passed the information along to Alfredson, who texted his group members.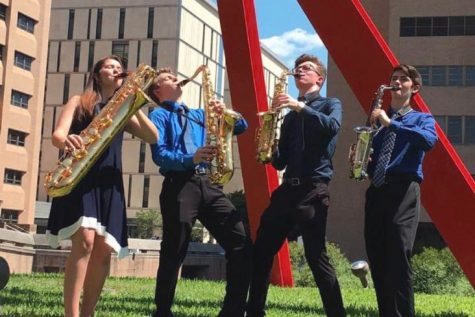 "I was on the phone with my mom and my phone kept blowing up with messages from the quartet," Wigle said. "I've never cried out of happiness before, but I remember getting into my car and just bawling." 
Each member appreciates what band has brought them in high school and want to incorporate music into their future lives, whether in a career or for fun. Both Wigle and Gray want to major in Music Education. 
"I want to be a music teacher," Gray said. "I want to be able to inspire kids with music like Easton has done for us."
Having prepared since junior high, the group is ready to share in this new experience and look back on how far they have come since the quartet began five years ago. Together, they have seen each other's growth as musicians through increasingly challenging pieces, heavy work ethic and dedication, all apparent to those outside the quartet with this unique opportunity. 
"This is the next step," Wigle said. "Out of all of my accomplishments in band, I would put this at the top."