Orchestra hits new record at all-region auditions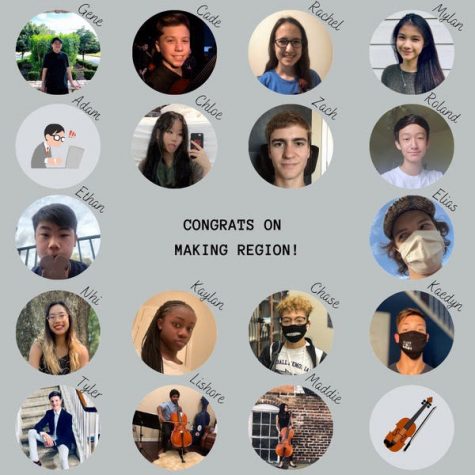 Last week, orchestra students participated in the All-Region orchestra auditions, a selective ensemble of orchestra players in the region.
Orchestra had a record-breaking 17 students place within these ensembles, with three additional students making alternate. Ten of those students made it into the top orchestra, with nine qualified to try out for All-State by the end of the month.
"All-Region is very selective," senior cellist Tyler Call said. "There are only around 24 cellos selected from the very large region we are in. I was able to place as third chair cello in the symphony orchestra in our region this year."
This was the senior's second year making it to All-Region; however, many fresh faces also made it this year.
"This is obviously my first time being selected for the high school region symphony," freshman violinist Cade Carter said. "I was very relieved when the results came out."
Carter placed third chair as a violinist in the symphony orchestra. The region orchestra consists of two ensembles, symphony and philharmonic, with symphony being the more selective of the two.
TMHS Region Orchestra Members:
Gene Chang
Cade Carter
Rachel Elfman
Mylan Le
Adam To
Chloe Wang
Zachary Daum
Roland Wang
Ethan Ho
Elias Borchert
Nhi Le
Kaylan Walker
Chase Beeler
Kaedyn Colton
Tyler Call
Lishore Kumar
Madison Garrett