Junior musician takes on All-Region jazz
The red flashing light blinked on his camera watching him as he played the last few notes of the piece he'd been working on for months. He listened to his recordings and anxiously clicked the submission button.
By the time he received the results, it was clear he'd achieved an unprecedented feat.
Junior Michael Rodriguez auditioned and made the Jazz All-Region Band in October, becoming the first Roarin' Blue Band member to achieve this in the school's ten year history. Rodriguez was recently named an All-Region tuba player and at the moment is auditioning for phase 2 of the region process on tuba.
His primary instrument since beginner band is the tuba, but he began learning trombone his freshman year when he joined the Jazz Ensemble class.
"I started playing trombone when I decided to join jazz band and at the beginning of this year, I finally got my hands on a bass trombone," Rodriguez said.
Once he realized his passion for music and wanted to pursue more, Rodriguez joined the Jazz Ensemble taught by head band director Andrew Easton.
"I grew up listening to classic rock and jazz music with my dad and when I decided that music was very important to me I thought the best way to learn more about it was by joining the jazz band class," Rodriguez said. "I get to have fun in band but I also get to learn more about music which I'm very passionate about."
Due to the pandemic, the audition process was drastically different and the two jazz region bands were combined into one. Under normal circumstances, students would go to an assigned school and audition in front of judges but due to safety precautions, everything was set up virtually.
"
I grew up listening to classic rock and jazz music with my dad and when I decided that music was very important to me I thought the best way to learn more about it was by joining the jazz band class."
"There were four different recordings on a virtual platform, three jazz etudes, and one improvised solo," Easton said. "Once submitted, it took around a week to get the results back."
For his audition, Rodriguez went into a spare room after school with his own camera and recording equipment and Easton helped him record.
"Mr. Easton was definitely a big help with both recording and learning the music, and he was the one to tell me about my results," Rodriguez said.
Rodriguez had many music-related plans for this year, though the current pandemic took a hit on several.
"I was actually looking forward to sophomore year and junior year a lot and I was supposed to be in a lot of ensembles but once covid hit essentially everything went away from me," Rodriguez said. "Now the only musical thing I have is marching band which is very restricted and jazz region band which will be in March."
As of right now, scheduled rehearsals after or during March have not been canceled, and Texas Music Educators Association stated that there will be no in-person practices until March 2021.
"The clinic and concert are in March this year in person and I'm pretty excited and looking forward to playing some jazz music with great musicians," Rodriguez said.
Fellow jazz band member senior Aidan Hegener admires Rodriguez's work ethic and how much it paid off for him.
"I follow Michael on Instagram and he always posts himself practicing trombone and he gets better and better every time," Hegener said. "He was always ambitious in jazz band and I think it is great that his ambition is finally paying off."
Rodriguez's tight schedule made it difficult to rehearse, and he would come to school around 6:30 in the morning to practice and run through his music as much as he could. He spent a lot of time adding his own personal touches and style to his pieces and mastering techniques.
Jazz music requires a lot of solos and may be out of the comfort zone of many musicians when they first began to play it. The style of music is relatively simple and the musician adds their own ideas and expressions to it.
"A lot of musicians getting into jazz at first are completely terrified of soloing, and honestly I was too," Rodriguez said. "Don't be afraid of solos, you are always performing way better than you think you are."
Rodriguez's hard work led him to accomplish his goal and allowed him to become the first band member at TMHS to succeed in making the jazz region band.
"I am very proud of him, he worked very hard and put a lot of effort into his audition and it paid off," Easton said. "Michael is the first student in the school's ten year history to make the jazz region band and he made it on bass trombone, which is not even his primary instrument."
His fellow classmates are proud of him as well and happy to see him succeed.
"I think that he is a really astounding player, especially playing more than one instrument," Hegener said. "His work ethic is shocking and it is incredible."
Music is Rodriguez's passion and he is very glad he decided to take the jazz ensemble class freshman year.
"Jazz music is not meant to be difficult, "Rodriguez said. "It is up to the musicians to interpret it any way they please and shape into their own piece of music. A jazz player takes something simple and embellishes it and that's what makes them such great musicians."
About the Writer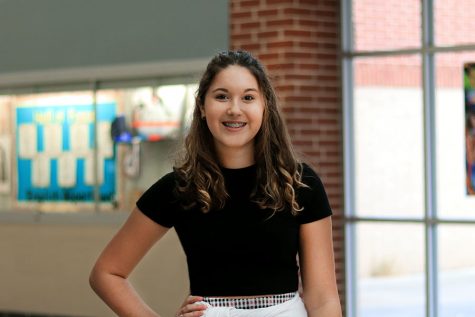 Veronika Boyrie, Staff Writer
Hi! My name is Veronika and I am a sophomore. This is my first year in journalism and I am really excited to write for the newspaper.  I spend a lot of...