Senior artists win awards for Houston Rodeo Art Show
This year, two students received awards for their art entries in the Houston Rodeo Art Show. The entries were submitted virtually this year and judges selected winners who will participate in the show. Senior Sophie Gleadell received Best of Show and Senior Carlie Dutile won a gold medal.
"It feels so awesome," Gleadell said. "I remember going to the district rodeo art shows when I was younger, and seeing pieces from the high school Art 4 AP students, hoping I'd get there someday. It's something I've always aspired to. I put a lot of time and effort into my final rodeo art piece, now it's won Best of Show, and is in consideration for auction."
Creating an art entry piece requires long hours of hard work in order to achieve perfection. Students are expected to show originality by choosing their subjects based on new photos that are provided by their instructor.
"It took many, many hours; I recall one particular time when I spent literally an entire Saturday just working on the trees in the background," Dutile said. "I worked on it in class for a few weeks, but the vast majority of it was done at my house with what paint I had. The process was time-consuming, to say the least."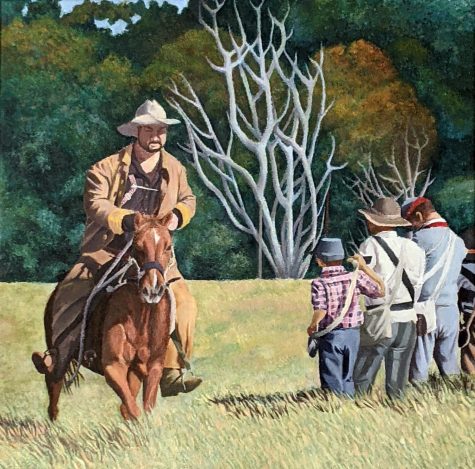 Artists also have the option of using a photo they've taken themselves as an original reference for their artwork.
"I drove to George Ranch with my friend Charles to take photo references for our art pieces," Gleadell said. "I sketched it out, using a grid. Then I used my set of prismacolors to add color to replicate the detail/textures the photo had. It took a LOT of time and was frustrating to get parts like the rope and blanket to be how I wanted it, but I had to let perfection go in the end."
While students are celebrating their success, there is still uncertainty over how their art will be showcased in the Rodeo Art Show.
"What'll be different is still a big unknown, especially with the event of the Houston Livestock Show Rodeo," Gleadell said. "Hopefully it's in person, so my piece can be displayed at the NRG stadium. I'd be required to attend because I'll be recognized there."
Due to the ongoing pandemic, The Houston Livestock Show and Rodeo has been rescheduled for May 4 – 23.