Glass Shattered in AP Offices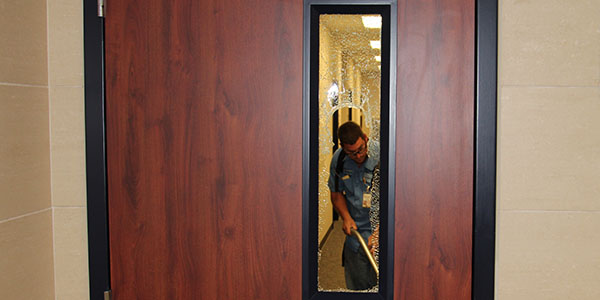 Friday morning, October 24, the APs were given a not so sweet surprise entering their alpha offices: every window in their alphas offices was entirely blown out and shattered.
"We're unsure on how it happened, but we're going to find out and charge a felony on whoever did it," AP Stephen Hinze said.
As of right now the details on the vandal's act is unclear, considering the lack of information at this point.
"I would have to say it looks like a BB gun, the way the glass is impacted inward at spots makes me think it was some sort of airsoft gun," First Sergeant Anthony Randall said.
With students coming in on a Friday, the talk of the school was the shattered windows throughout their AP's offices.
"I can't believe someone would do that. I mean yeah, kids get mad at the school but to cause that much damage and go through so much trouble to do it is just crazy," senior Johnny Rosenbalm said.
Although at this point the details are unclear as to what happened, administration has made it very clear that this act will not go unpunished and the suspect will be held accountable.